Republic of Ireland fans are in good form ahead of a World Cup qualifier against Iceland amid speculation that 20 year old Kevin Kilbane may make his debut.
From Albania to America, the Republic of Ireland supporters have travelled the world following the fortunes of their favourite team.
Reykjavik is the latest port of call for Irish fans. Just twelve Irish people live and work in Iceland and yet there is still an Irish pub 'The Dubliner'. They will be joined this weekend by over 1,200 Irish fans who are travelling for the game.
The price of a pint in Reykjavik is a bit higher than what the Irish are used to. However, the owner of 'The Dubliner' has made a special concession for the Irish fans.
We dropped our prices from six pounds a pint to three pounds a pint for the Irish contingent for the weekend and we're still making a few quid.
On the field, the Republic of Ireland team are in training ahead of the match with Steve Staunton back on the pitch having recovered from injury. Uncapped, twenty-year-old Kevin Kilbane is also in training and could make his debut for the Republic. The Preston born player with a Longford mother and an Achill Island father has impressed manager Mick McCarthy.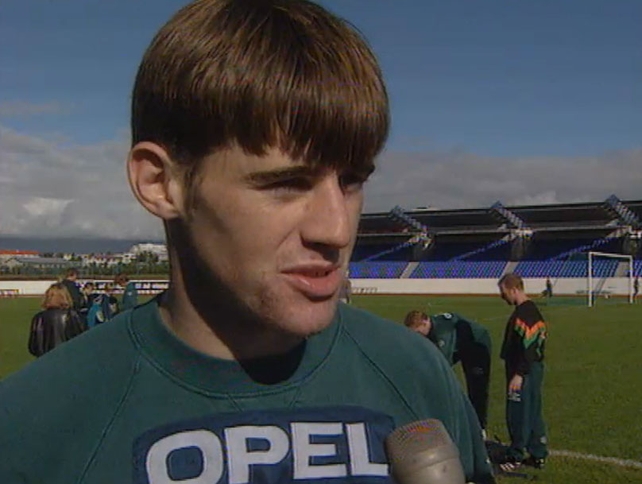 Kevin Kilbane in training in Iceland (1997)
It's been my main ambition since I was a young boy to come and play for Ireland.
An RTÉ News report broadcast on 5 September 1997. The reporter is Tony Donoghue.