Aughalane take on Bakersbridge in a skittles match before the television cameras.
Over the years, John 'The Lock' Fitzpatrick, captain of the Bakersbridge skittles team in Cavan has won eight or nine medals, two cups and runner up trophies from the 1977 and 1978 All-Ireland Skittles Championships finals held in Mitchelstown, County Cork.
He recites a poem written about him when he started out playing skittles in 1959.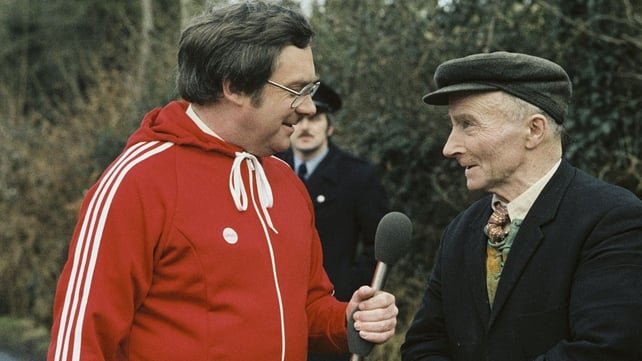 Donncha Ó Dúlaing is throwing for the Aughalane skittles team and John demonstrates a warm up exercise for him to try before the game commences.
Five skittles with values 1, 2, 3, 4 and 10 are placed in a ring in a cross shape. Each player takes his turn at a throw line and attempts to knock all of the skittles with four throwers made from cylindrical blocks of wood.
Tom Francis Brady for Bakersbridge goes first and scores 17. First up for Aughalane is Edmund McManus. He once beat John the Lock in the All-Ireland Skittles Championships.
Edmund is a great thrower.
Next up for Bakersbridge is Charlie Corrigian who has thrown with John for 25 or 27 years.
He never lets me down of a game.
Aughalane man Eamonn McKiernan, one of the young throwers is next. Bakersbridge thrower, the musician and singer Ian Corrigan follows him. Then John Brady for Aughalane clears all five skittles.
He's a good thrower.
Aughalane are three points ahead when it is John Fitzpatrick's turn. The great man of skittles clears all five, putting Bakersbridge ahead. Aughalane's fate lies with Donncha who admits,
I can see I don't stand a hope in hell here.
Both John and Donncha agree that it was a great game.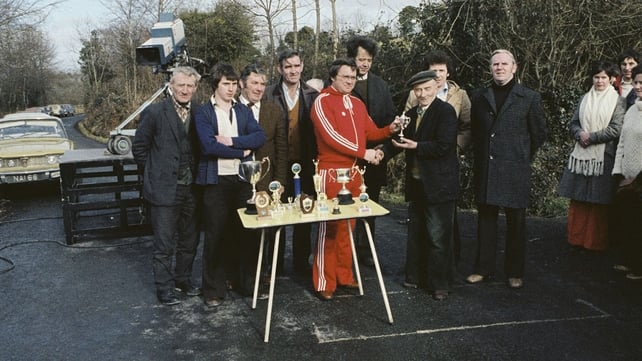 'Donncha's Travelling Roadshow' was a series presented by Donncha Ó Dúlaing highlighting the people, music and traditions of rural Ireland.
This episode of 'Donncha's Travelling Roadshow' was broadcast on 4 April 1979.