3,000 people attend the South East Soap Box Derby in New Ross, County Wexford.
Event organisers, the New Ross Lions Club, encouraged companies to sponsor soap boxes in order to raise money for three local charities. It was estimated that £10,000 was raised by the event. The carts were built from ready made kits and met strict guidelines as they were expected to race at 20 miles an hour.
For the fun of it
Damien Doyle driving for Bolands Garage won the Grand Prix race ahead of 20 other child racers.
Participants in the celebrity race included Lions Club President Michael Ryan, motor rallying star Billy Coleman, RTÉ reporter Colm Connolly, and Mayor of Waterford City Brian Swift.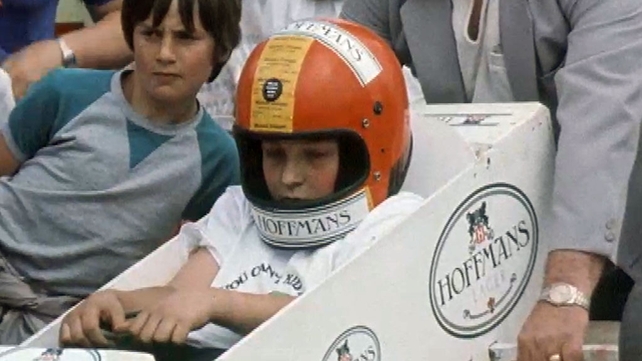 Soap Box Derby in New Ross (1986)
An RTÉ News reports broadcast on 5 August 1986. The reporter is Michael Ryan.