US Ambassador to Ireland Jean Kennedy Smith returns to New Ross thirty years to the day after she accompanied her brother President John F Kennedy there as part of his visit to Ireland.
Three decades ago, the late President Kennedy introduced his sister Jean to the crowds in New Ross who had come to see him. Jean Kennedy Smith returned to the ancestral home of the Kennedy family, on the precise day and hour that she had first come in 1963.
The ambassador was greeted by community leaders and members of the Oireachtas, and attended Mass at the church of Saint Mary and Saint Michael in New Ross.
There are plans for a designated Kennedy centre to be developed by the John F Kennedy Trust in the town. During her visit to its current home, the ambassador retrieved her family history from a computer. RTÉ Director of Programmes Bob Collins presented the ambassador with a copy of the television programme recalling her brother's visit in 1963.
Then it was on to Dunganstown, the ancestral home of the Kennedys, where Jean Kennedy Smith met her Irish relatives and unveiled a plaque commemorating her brother's historic visit there thirty years ago.
For sure, one of the happiest moments in my brother's presidency, and I remember it with great love and affection for the people here, and they've shown that again today.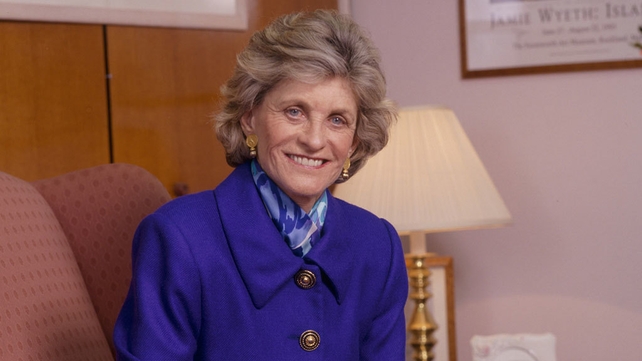 US Ambassador to Ireland Jean Kennedy Smith (1996)
An RTÉ News report broadcast on 27 June 1993. The reporter is Michael Ryan.