Glitz, glamour, and not a laddered stocking in sight at the Alternative Miss Ireland launch in Dublin.
The annual pageant which celebrates beauty in all shapes and guises will take place in the Olympia Theatre.
Hostess Panti Bliss explains what type of lady enters a competition like this,
It takes a lot of gumption, a little spark and some originality.
Shirley Temple Bar, the 1997 Alternative Miss Ireland was there to show her support, as was contestant Dizzy Dyin'forit. The crown has still eluded her, but she remains positive
Some queens just have to wait longer than others.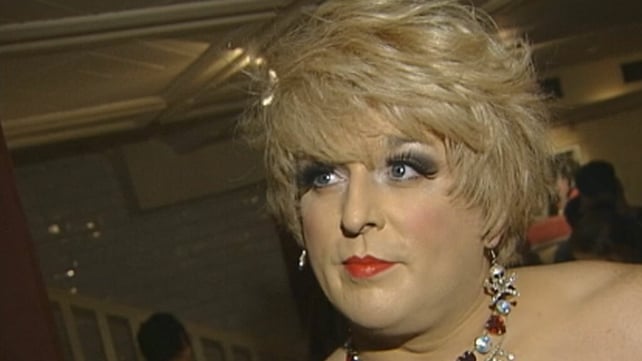 Dizzy Dyn'forit (2004)
A book featuring previous years' winners and contestants is also on sale. As with all beauty pageants, all money raised goes to charity, with over €120,000 donated to Cáirde, a national HIV organisation. Producer Trish Brennan explains that as demographics have changed over the last decade, monies raised are now directed to overseas projects as well as those in Ireland,
We would fund raise for Open Heart House, which would provide hospice and respite care for people suffering from HIV.
An RTÉ News report broadcast on 8 March 2004. The reporter is Dympna Moroney.