Irish dancers from Ireland, Britain, Australia and the USA battle it out for All Ireland titles in Malahide.
Organised by An Coimisiún Le Rincí Gaelacha (The Irish Dancing Commission), the stage in the Grand Hotel Malahide was graced with young dancers from Ireland, Britain, Australia and the United States.
Jean Butler's mother emigrated from Ireland to America, and Irish dancing was a way to her keep in touch with her roots,
She wanted us to have a bit of Ireland in our home.
Enjoying their performances is the most important thing for one young dancer, who doesn't focus overly on nerves once she gets onstage,
You're just going out there to enjoy yourself, and dance well.
The first prize in the Senior Boys section went to Colm O'Shea from London.
Martina O'Mahony is the All-Ireland Under-12 champion. Her dedication to dancing paid off,
When I come home from school, after I do my homework, I dance until I have to go to bed.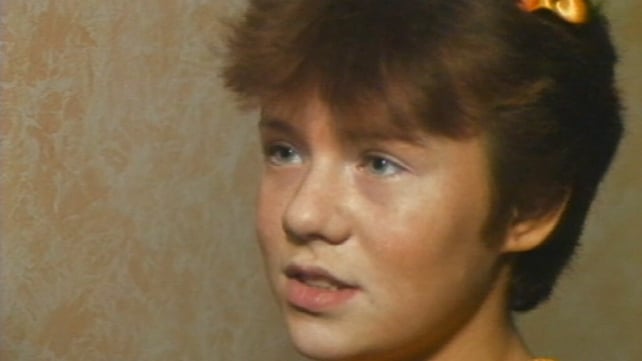 All-Ireland Under 12 Champion Martina O'Mahony (1989)
The standard will increase again however when the World Irish Dancing Championships will take place in Galway next month.
An RTÉ News report broadcast on 5 February 1989. The reporter is Maggie O'Kane.