Greetings from stars and celebrities on the opening night of Ireland's second television channel RTÉ 2.
RTÉ 2 a second RTÉ television channel, was launched on 2 November 1978 with a special opening night gala broadcast live from the Cork Opera House hosted by Mike Murphy.
The new national Irish channel promised to bring simultaneous transmissions of British and American television shows to Irish viewers. Programmes previously only available to viewers with access to UK channels would now be transmitted at the same time on RTÉ 2.
You'll see these programmes on RTÉ 2 not a few weeks later. Not a few days later but right at the moment of transmission! Just one more great reason for watching a great channel RTÉ 2.
Some of the programmes acquired by RTÉ included Top of the Pops, Porridge, Coronation Street, Bruce's Big Night, This Is Your Life, Voyage of Charles Darwin, and Edward and Mrs Simpson.
Many of the international stars were not able to attend the launch night ceremony and instead sent messages on film which were broadcast as part of the show.
These included chat show host and broadcaster Michael Parkinson, singer and Eurovision winner Dana, entertainer Bruce Forsyth, comedy actor Ronnie Barker, and musician and entertainer Sammy Davis Jnr, who all sent their good wishes and luck to the new television channel. They also took the opportunity to plug their shows.
Hi, my name is Sammy Davis Junior. I am very proud indeed to be a part of the opening festivities of Ireland's second national TV channel. It is called RTÉ 2.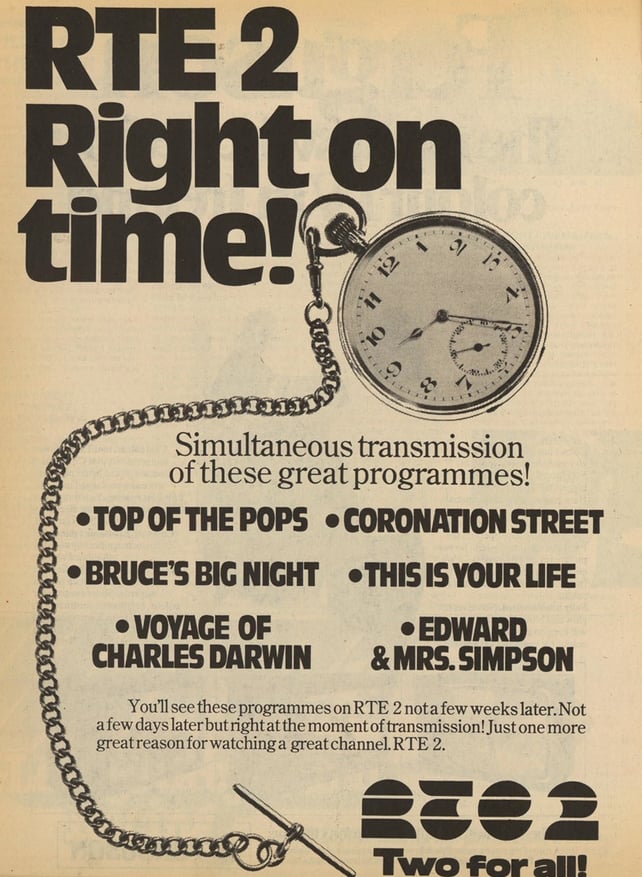 RTÉ Guide 27 October 1978, New Programme Acquisitions for RTÉ 2
'First Night' was broadcast live on the new channel RTÉ 2 on 2 November 1978.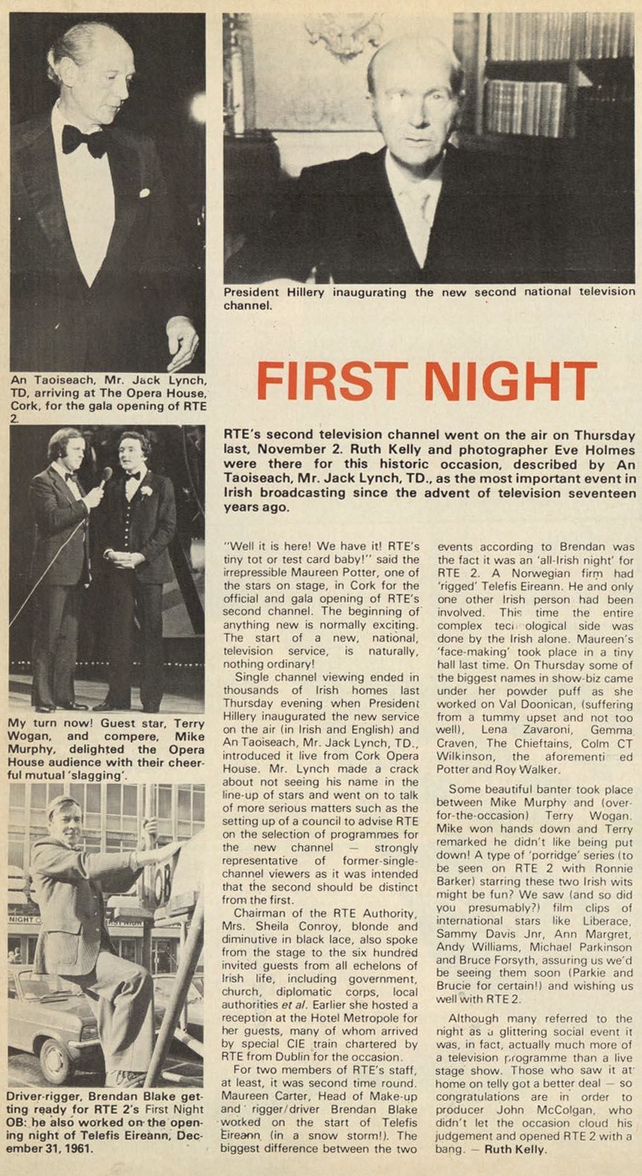 RTÉ Guide 10 November 1978 - First Night of RTÉ 2