A message from the pope to the sick was recorded by an RTÉ production team prior to his Irish visit. They also gave the pontiff some media training.
One group of people denied the freedom to travel to see Pope John Paul II are those confined by illness to the home, or hospital. For them, Pope John Paul II has recorded this personal message.
Dear brothers and sisters, the purpose of my visit to Ireland is to proclaim the message of love and peace of our Lord and saviour Jesus Christ.
Pope John Paul II explains that he, as a representative of Christ, would like to speak to everyone about the word of God and in particular to the sick, the young and the old.
Not all of you can leave your homes and hospitals and come and meet me but all of you are in my thoughts and prayers. I am spiritually close to all of you.
He speaks about how love can make suffering bearable.
'Pope John Paul II: A Message To The Sick' was broadcast at 8.00pm on Saturday 29 September 1979.
This message was recorded by RTÉ in the Vatican prior to the visit of Pope John Paul II to Ireland. An RTÉ team, under the direction of Father Billy FitzGerald, Head of Religious Programmes, was invited to the Pope's residence at Castel Gandolfo in Rome to coach the new Pope in the broadcasting techniques he would need to record the message.
Fascinated by gadgets and technology, the Pope had the use of various pieces of broadcasting equipment explained to him before recording his message. The pope used a portaprompt machine to read his script during the recording.
On 27 September 1979, RTÉ issued a press release explaining how the RTÉ team had taught the Pope the "Tricks of the Trade".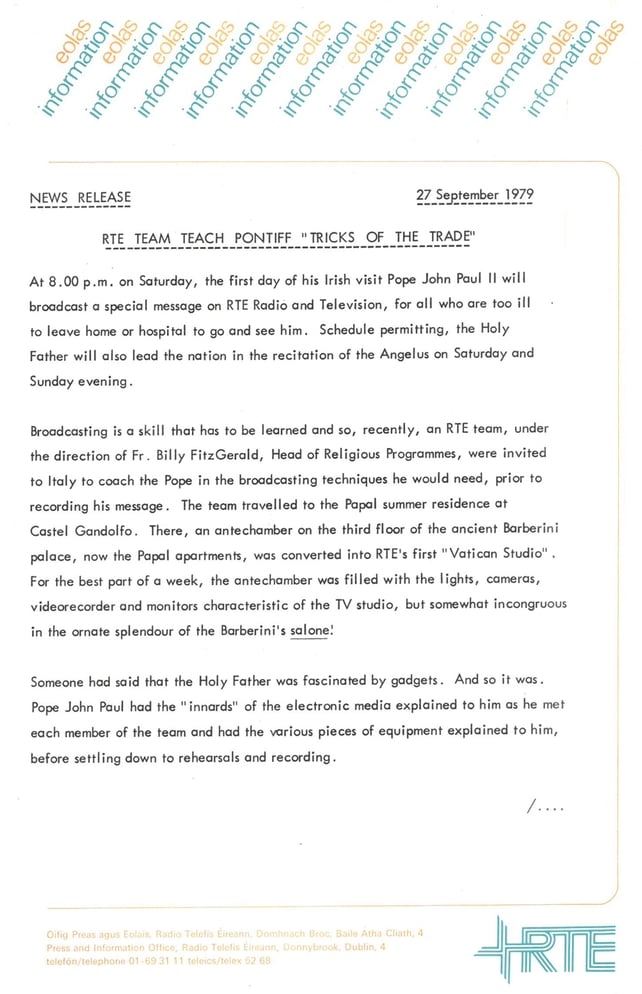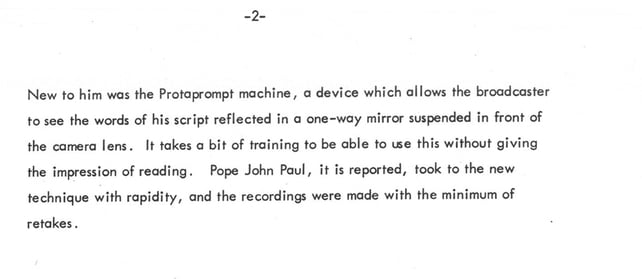 Press Release issued by RTÉ, 27 September 1979
Pope John Paul II visited Ireland from 29 September to 1 October 1979.