Pope John Paul II to spend the night at the Apostolic Nunciature in Cabra.
Ahead of the visit of Pope John Paul II to Ireland, the Papal Nuncio Dr Gaetano Alibrandi anticipates the impact the visit will have on the Irish people.
I'm sure that this will stir the sentiments of devotion and of love that the Irish people have for the Holy Father.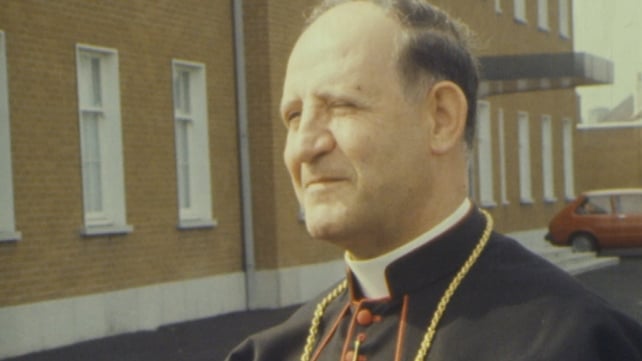 Papal Nuncio Dr Gaetano Alibrandi pictured outside the Apostolic Nunciature, Cabra (1979)
On the first night of his three-night stay in Ireland, Pope John Paul II will stay at the Apostolic Nunciature on the Navan Road in Cabra, Dublin. Derek Davis takes us on a tour of the residence taking in the main reception room, the dining room, and the guest bedroom where the Pope will sleep. The staff hope that the Pope will have time to celebrate mass in the small austere chapel.
Like any establishment run by nuns, the house is beautifully kept and smells of furniture polish.
An RTÉ News report broadcast on 28 July 1979. The reporter is Derek Davis.
Pope John Paul II visited Ireland from 29 September to 1 October 1979.