The last engagement for Pope John Paul II, on the first day of his visit to Ireland, was to meet the leaders of other churches and the media.
This event was not part of RTÉ's live television coverage but was broadcast on radio. O'Doherty Audio and Video Production provided RTÉ radio with a video feed to facilitate radio journalists. The footage shown here was never broadcast while the voices heard are those of radio commentators Anne Daly and John Bowman.
The international press wait in the assembly hall of the Dominican Convent Cabra in Dublin for the pope. When he appears the journalists sing, 'For He's A Jolly Good Fellow'. Pope John Paul announces that there will be no speech and after a few words with a journalist from Argentina and another from Poland he advises the media to get some rest. Reluctant to let the Pope go journalists try to persuade the pontiff to sing.
In his commentary, John Bowman refers to the singing of the gathered media as,
Another spontaneous gesture by the press. That's rare.
The visit of Pope John Paul II to Ireland 29 September 1979.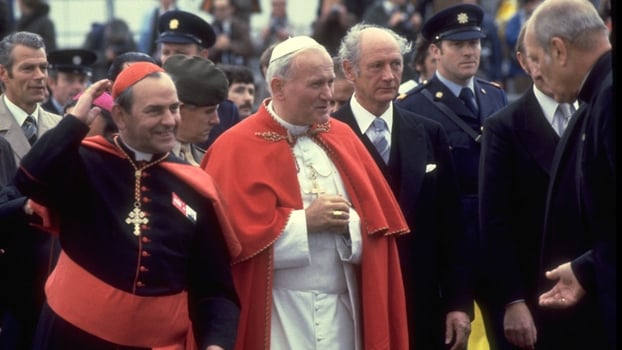 Pope John Paul II, Jack Lynch and Cardinal Tomás O Fiaich.