A first for Ireland - a lightweight sports, road and racing car the TMC Costin designed and made in Wexford.
Designed by Englishman Francis Costin, who is famous for his work with the Lotus car company the TMC Costin is being built by the Thompson Manufacturing Company. Set up by brothers Val, Peter, Sean and Anthony Thompson Manufacturing has six employees and operates out of a small factory in Castlebridge County Wexford.
It's described as Ireland's first road and racing car.
For Peter Thompson what makes the car so special is the cost and also the fact that it is the first road racing car made in Ireland in decades. The TMC Costin is based on the running gear of a Vauxhall Chevette.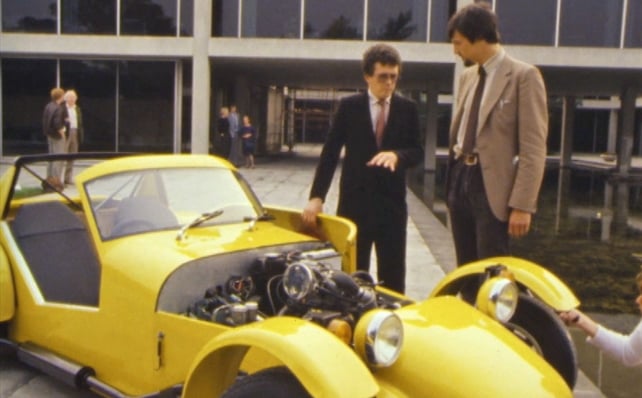 Peter Thompson and David Pate with the TM Costin Sports Car (1983)
The car is available to buy in component form starting at around £2,000 or in finished form for around £10,000.
An RTÉ News report broadcast on 25 August 1983. The reporter is David Pate.
The TMC Costin was manufactured from 1983 to 1987 when the company went bankrupt.