Homes for senior citizens are being built under a new housing project on a Dublin site that was vacant for years.
24 old people will be housed on Dublin's Lord Edward Street under the 'Home Response' initiative, which was formed by members of the building industry.
Michael Leddy, one of the builders involved in the project, outlines how this housing initiative came about from initial proposals to acquiring building services free-of-charge. He is dismissive of cynics who see the project as a public relations exercise.
The object of the exercise is to house twenty four old people.
The Lord Edward Street site was supplied by Dublin Corporation having been idle for 43 years. The development will consist of eight double flats and eight single flats. They will all be self-contained with a common sitting room and kitchen. A caretaker will be appointed by the management committee and the building will also have medical facilities.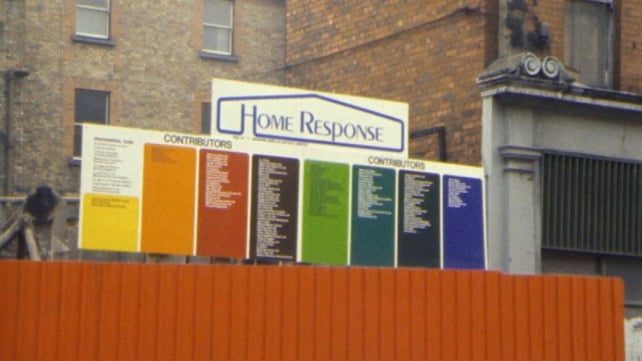 Home Response Project on Lord Edward Street, Dublin (1983)
Peter Whelan of Dublin Corporation comments on similar voluntary work projects and the financial challenges they face.
It means that people in the voluntary sector are helping us out. They're helping people who would be looking to us to be housed.
To date, all the money for the project has come from the construction industry. The development will cost £400,000 to build and £200,000 has already been donated.
An RTÉ News report broadcast on 18 July 1983.