CIÉ believes it knows what tourists want when they come to Ireland and hopes to leave them wanting more.
CIÉ (Córas Iompair Éireann), Ireland's national public transport provider, has been operating at a loss for some time. But the CIÉ coach tours department has found a niche market in the North American market and is going from strength to strength.
It is expected that over 2 million tourists will visit Ireland in 1978. North Americans are the biggest spenders, and it is they who are the backbone of CIE's coach tours, paying £134 per person for a four day tour of Ireland.
The Abbey Theatre is one of the capital's main tourist attractions, and packed houses during the summer months are testament to that. While the Abbey is of cultural and historical importance to Irish people, is it really a big thing beyond these shores? To this American tourist, it is
Something that everyone wants to see.
Departing Dublin, the coach heads west to the Shannon area, where the travellers look forward to the prospect of medieval castles and thatched cottages. What about the men who drive the buses? What makes a good CIÉ coach tour driver? Can they give the tourists the experience they're looking for? One driver says,
They want to see the countryside, they want to be introduced to Ireland by an Irish person with an Irish brogue such as I have.
Cue arrival at Bunratty Folk Park, with thatched cottages and old buildings aplenty, and even a blacksmith's forge in daily use. Is Ireland what these American tourists thought it would be like? Most people on the tours are of Irish ancestry, and this is the reason why they're here, as this lady explains,
I don't care how many generations it goes back, if any generation of your family come from Ireland, you want to see it.
No coach tour of Ireland is complete without a banquet at Bunratty Castle. Tonight Phil Parliss and his wife have been plucked from the crowd and honoured with the title of Earl and Lady of Thomond for the night.
Next morning, it's up and on the road again, this time to kiss the Blarney Stone, something which has greater significance for Americans than it does in Ireland. For this tourist, the sight of green fields is a delight,
Coming from southern California, smogville, I appreciate the green grass, the green Christmas trees. You have your built in Christmas trees. And the tour director is almost like a Bob Hope a lot of jokes I plan to use when I get back.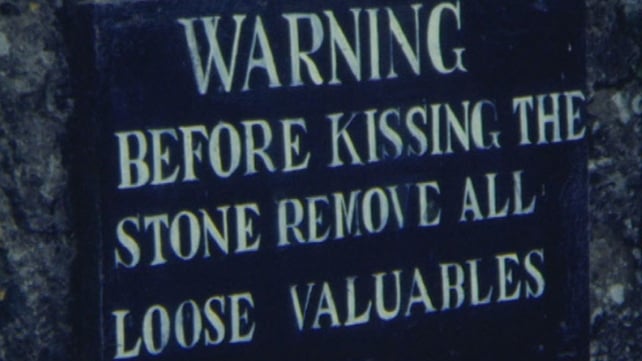 Blarney Stone sign (1978)
With the Blarney Stone ticked off the list, next stop is Killarney, for a trip around the lakes of in a jaunting car, another must for tourists. The packed itinerary hasn't been too much for this seasoned Australian traveller however. She feels that the CIÉ tour is good value for money, and has thoroughly enjoyed herself,
I've absolutely loved it, enjoyed every minute of it, and it's something different from anything I've done on any of the other tours in Europe or Scandinavia. I have done the best of Britain and this is just something different to be able to go home and say, I actually kissed the Blarney.
This episode of 'P.M.' was broadcast on 1 July 1978. The reporter is Nick Coffey.