The 'Changing Face of Ireland' series surveys the tourism situation in Ireland and in particular the role of Bórd Fáilte.
Since the Second World War Ireland has experienced a growing tourism industry. The 'Changing Face of Ireland' takes a look at this new industry as a source of economic revenue for the country. It is estimated that tourism is worth £75 million to the Irish economy. According to the RTÉ Guide,
People realised that they could spend their new money in Ireland where food was plentiful, cheap and unrestricted. Clothes were cheap too and hotels were eager to welcome guests.
In this extract from the programme we meet Miss Durcan owner of the Road House Hotel near Dundalk in county Louth, tells Norris Davidson about her new hotel and how it has helped to promote local tourism. She describes the different types of guests that stay at the hotel - from American tourists during the summer months to the year-round commercial and recreational travellers.
This episode of 'The Changing Face of Ireland' was broadcast on 18 January 1966. The programme was directed and scripted by Norris Davidson.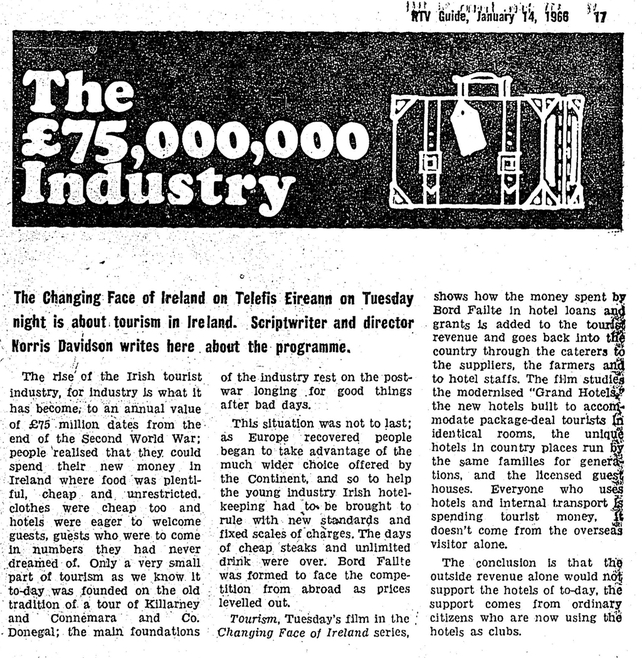 RTÉ Guide 14 January 1966
Commenting on the series 'The Changing Face of Ireland' in the RTÉ Guide in October 1964, Jack White Assistant Controller of Television at RTÉ, says
The purpose of 'The Changing Face of Ireland', our new series, is to study the changes in Irish economic and social life over the last forty years.