A local shop in Gort is providing goods from home and a point of contact for the town's growing Brazilian population.
The newsagent and convenience store is run by Mary and Gerry Callanan. Selling international phone cards and Brazilian produce, the two public telephones in their shop are an important link for the Brazilian community in Gort, who came here to work in factories and meat processing plants.
According to Mary, the Brazilians started dropping into the shop, as it is on the way up to one of the town's factories, and as time went on, the Callanans got to know them. According to Mary,
We don't take any notice that they are Brazilian now and that we are Irish, we're used to dealing with them every day of the week, so we just carry on the same as normal.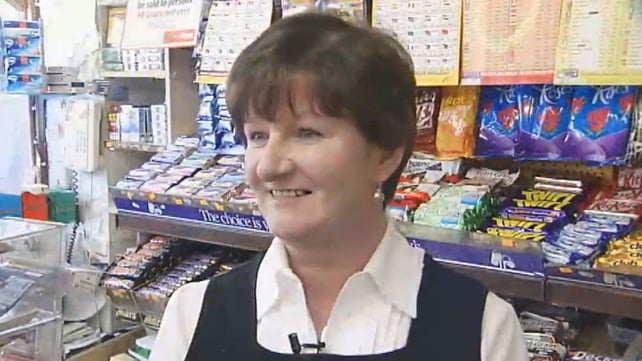 Gort shopkeeper Mary Calanan (2008)
The Brazilians are now part of the community in Gort. Their children attend the local schools, and they have a weekly Sunday Mass in Portuguese.
Rice and beans, on sale in Mary's shop, are the mainstay of the Brazilian diet. The town has benefited from their presence in many ways,
They have a different language, different culture everything so I think for our children growing up it has been wonderful for them to experience that. We obviously never got the chance. It was in the reverse years ago, where the Irish people had to go abroad, and make a life for themselves wherever they could. It's just so different to think that people are coming here, especially to a small rural town.
Mary Kennedy talks to two of Mary Callanan's customers, Fabio José and Victor Gustavo, who were in the shop to use the telephone to contact home.
Fabio has been in Gort for five years with his wife and two daughters. He likes life in the town,
All my family live here with me, I have good schools for two daughters, and I have a good life here.
Victor, who is newly arrived, is in Ireland to study, and will look for a job soon. Playing football with a mixed Irish-Brazilian team has helped him to settle in. The weather is a bit hard to get used to, but he is glad he came to Ireland,
This place is very good...I like the Irish people.
This report for 'Nationwide' was broadcast on 11 April 2008. The reporter is Mary Kennedy.
'Nationwide' is an early evening magazine programme that brings Irish viewers an eclectic round-up of news, views and events from around the country.