Frank Kelly talks about writing, nerves, and how he tried but could not escape his true calling to be an actor.
President of the Irish Countrywomen's Association Ina Broughall the Saturday Live guest presenter hears Farnk Kelly talk about his career. As well as acting Frank Kelly also writes which he says is a bit like being a student studying for exams,
For three hours work you can get about one hour's good study, and writing is very similar in that way...unless you're very lucky to have a very resolved idea when you start, and that's not always the case...
Ina Broughall admits to nerves as a first time television presenter. Frank puts her at ease, and describes how he uses his nerves to enhance his performances,
I channel them into a kind of energy that I use when I'm performing...I always feel that if you don't enjoy something, it's harder for other people to enjoy it...
Frank Kelly's acting and singing talents were recognised while at school, and at college he enjoyed success with the UCD Dramatic Society. Called to the Bar, he also later worked as a journalist.
The theatre drew him back again and again. Despite having avoided it consistently for many years, it wasn't until he was married with a family, that he realised he couldn't ignore the calling any more.
Resigning from his permanent and pensionable job, Kelly started with the Eblana Theatre in Dublin, and found he was able to make a living from it. He recognises how fortunate he is to do something that he loves,
It's been kind to me, I've had periods out of work, but I'm very fortunate insofar as I know it's my vocation, and that's a great privilege, to do something that you know you ought to be doing, that is you, that is a vocation. So I really value that, you know.
This episode of 'Saturday Live' was broadcast on 12 March 1988. The presenter is Ina Broughall.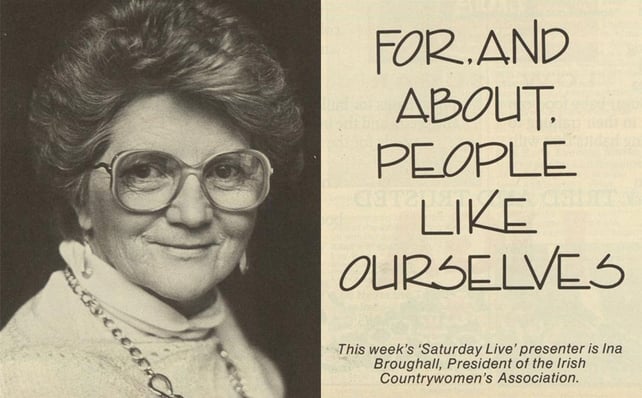 Ina Broughall, RTÉ Guide 11 March 1988
'Saturday Live' was a weekly chat show with a different guest host each week. Other guest hosts included Tracy Piggott, Fr Michael Cleary, Brendan Shine, Yvonne Costelloe, Niall Toibin, Bishop Eamon Casey, Pat Ingoldsby, Ulick O'Connor, Lord Henry Mountcharles, Henry Kelly, Shay Healy, Rosemeary Smith, Eamon Dunphy, Tommy Makem, Mick Lally, Mícheál Ó Muircheartaigh, Alan Dukes, Eamon Morrissey, and Joe Lynch amongst others.