'The Killyweewee Chamber Ensemble' are back in Ireland to perform on Ballymagash TV after a successful string of performances in London where they "got on like a horse on fire".
In 1980 'Hall's Pictorial Weekly' featured 'The Killyweewee Chamber Ensemble' who perform live on Ballymagash TV. The band's spokesman, Yehudi McBodhrain (Frank Kelly) spoke to Ballymagash TV about the success of their performances in London.
'The Kilyweewee Chamber Ensemble' was one of the highlights of the 'Sense of Ireland Festival' in London recently and
got on like a horse on fire.
Their trip began in 'Filthy Franks', an Irish pub in Kilburn. Following the success of their performance and due to popular demand, their next shows were moved to The Royal Albert Hall playing twice a night to meet the demand for tickets.
'A Lad from the BBC' comments that he never heard the like of it in his life, and talks of the Britains respect for the Irish mentioning Terry Wogan, Val Doonican, Eamonn Andrews and Dave Allen amongst the most admired.
This excerpt from the show features Paul Murphy as a continuity announcer for Ballymagash TV. The opening titles show a mock-up of the RTÉ symbol of the Saint Brigid's Cross made from cigarette butts.
This episode of 'Hall's Pictorial Weekly' was broadcast on 12 March 1980.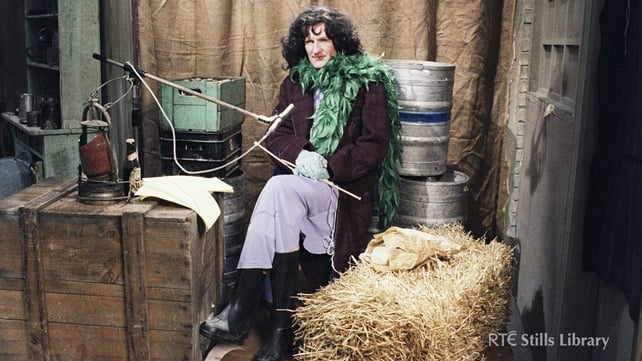 Paul Murphy as an RTÉ continuity announcer on Ballymagash TV in 1979.
Frank Hall's amusing and satirical series began on 29 September 1971 with the full title "Hall's Pictorial Weekly Incorporating the Provincial Vindicator" which became known as "Hall's Pictorial Weekly". The programme ran for 9 series until 1980. In the RTÉ Guide on the week of it's first transmission, Frank Hall wrote "the form and content of Hall's Pictorial Weekly should be impossible to forecast until the last moment. It should be as varied and absorbing as life itself". He further commented "I have an inexhaustible interest in the lives and times of the people who live in our country towns and villages; no event is too small to capture my attention, no community too out of the way... This programme is intended to be about you, your town, your friends, your local interests."
(RTÉ Guide, September 24, 1971, Vol.8, No.9, p.2)