In an Arklow restaurant, customers are being encouraged to spice up their lives for Saint Valentine's Day with eel, a food of love.
Diners in Murphy's Restaurant in Arklow are in for a surprise. Chef Jimmy Mills is offering diners the options to spice up their lives with fresh locally produced eel. The thought of eel might not spring immediately to mind when we think of aphrodisiac foods, but this chef is of the opinion that eels will join oysters as the food of love.
The Japanese believe it's got an aphrodisiac quality...the number of people who have tasted the eel...have been surprised by its texture and taste...
The mood in the restaurant is romantic, and the guests are game for something new.
Do they agree with the Japanese, that it increases one's virility? Do the new eel based dishes pass the test? Judging by their enthusiasm, the experience is an enjoyable one, with one lady declaring,
Very nice...totally different to what I expected.
The eels come from Aqua Arklow, an eel farm started by local man Declan Duggan. A plumber by trade, he saw the eel's potential, and with the help of Bord Iascaigh Mhara, put in place a state of the art eel farm, employing six people.
Declan Duggan says the advantage of farmed eels over those caught in the wild is the regularity of supply and consistency of size. He exports the bulk of the eels to Germany and Holland, where there is a big demand,
The last couple of months we've had a lot of interest in people buying eels, I think there's potential for development of smoking eels within Ireland.
But back to the restaurant. Are the eels having the desired effect? Diners certainly seem to be enjoying the experience, and will be coming back for more.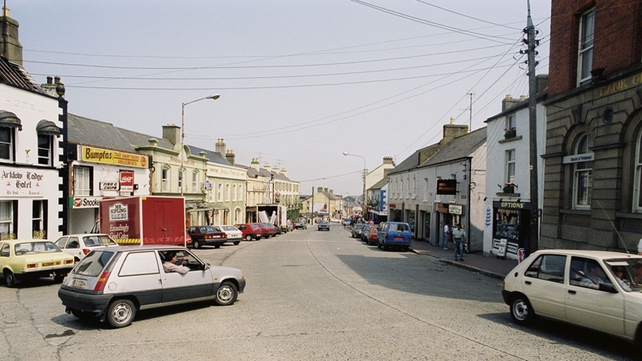 Main Street, Arklow, County Wicklow (1992). The photographer is Des Gaffney.
This episode of 'Nationwide' was broadcast on 13 February 1998. The reporter is Helen McInerney.
'Nationwide' is an early evening magazine programme that brings Irish viewers an eclectic round-up of news, views and events from around the country.