An Post issues love stamp for Valentine's Day.
In 1985 over 7 million 'Love Stamps' were sold in the run up to Saint Valentine's Day and it is hoped that this year will be no different.
In 1986 there was a competition for the design of the Love Stamps, which received over 4,000 entries. A Stamp Design Advisory Committee had the job of selecting just two winning designs.
Terry Monaghan of New Art Studios won the competition for the 26 pence stamp depicting
The ultimate in togetherness
Terry describes the rationale behind his winning design.
The prize for the 22 pence stamp went to Ries Hoek, a graphic designer at RTÉ. Ries says his design represents a message of love.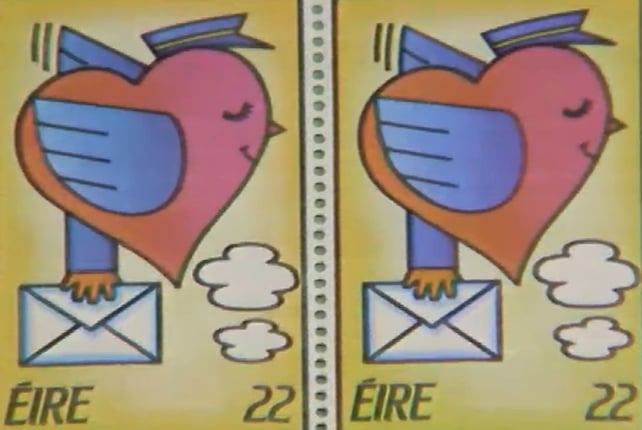 22p Love Stamp designed by Ries Hoek
Tipperary Art Teacher Clodagh Holahan won the competition for the design of the special Valentine's Day envelope featuring a love train.
Thousands of post men like Billy Lanigan will be delivering messages of love in the coming days. The question remains who will be buying the stamps and sending those Valentine's Day cards?
Reporter Colm Connolly took to the streets to find out.
An RTÉ News report broadcast on 12 February 1986.