An alligator named Fred has found a home in The Swiss Chalet pub in Belfast.
Fred the alligator was brought to Northern Ireland by Pat McNamara, a man with a taste for exotic pets.
Behind the outwardly normal facade of the Swiss Chalet pub, there lurks a man-eater.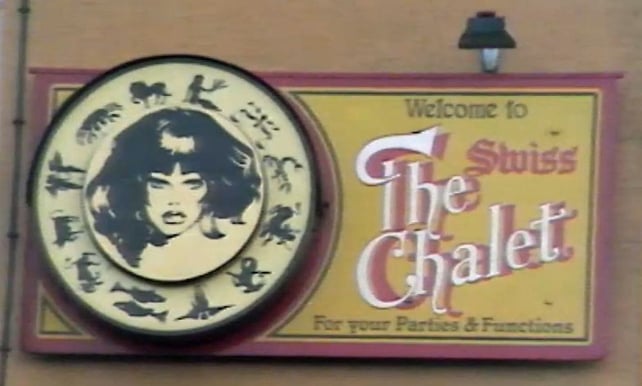 The Swiss Chalet
Pat McNamara's fascination with reptiles began with snakes. His enthusiasm got the better of him when he was then offered an alligator.
Pat and his wife Anne spoke to Fergal Keane about to having an alligator as a pet. While Anne didn't mind when Fred first arrived, she became nervous and anxious as Fred grew and became a more restless.
He's just getting so big now that I don't trust him.
Anne gave Fred his marching orders and said see you later alligator. Pat then passed Fred on to pub owner Brian Hull who placed the alligator in a tank behind the bar at The Swiss Chalet in Glengormley.
A lot of people think he's still stuffed because he doesn't move that much but whenever he does move, he moves fast.
While he's not everybody's idea of the perfect pet, his owner says that apart from occasional snappy periods he really is a lovable creature.
An RTÉ News report broadcast on 11 January 1988. The reporter is Fergal Keane.