Limerick born artist Seán Keating discusses his approach to painting.
Seán Keating studied at the Dublin Metropolitan School of Art in Dublin and under Sir William Orpen in London. On returning to Ireland Keating headed to the west coast where he never been there before. The life and landscape of the west of Ireland would prove to be a major inspiration to his work.
I was literally astounded, it was a different country, there was a whole different picture, I was entranced, I couldn't get enough of it.
Seán Keating spent a lot of time on the Aran Islands and painted many portraits of the people who lived there. Between 1926 and 1927 he produced a number of paintings relating to the Shannon Scheme at Ardnacrusha in County Clare.
What I consider the most important, if any of it is important, work that ever I did was done in the west, from western themes.
For Keating, a painting begins when he spots a chance moment or movement on the street. The impression then grows and develops in his mind. By the time he begins to work on a canvass, he knows exactly what he is going to do.
It's practically putting spots of paint on the places you already have fixed for them.
However a painting may fail to translate from his imagination onto canvass as
It was a dramatic or an imaginative picture rather than a painting capable of being transferred into paint on canvass.
He does not think there such a thing as Irish art, or a form of Irish art.
There are only two kinds of painters, good draughtsmen and good colourists, and bad draughtsmen and bad colourists; or good draughtsmen and bad colourists, and bad draughtsmen and good colourists; very rarely the two of them are together, but one should try for that.
Drawing is the most fundamental aspect of art.
It is a primitive art you see, all human beings understand drawing.
Everyone has drawn from the cave painters at Altamira in Spain to great artists such as Michelangelo and Leonardo da Vinci. He does not believe skill can be divorced from art and agrees his approach to his paintings is that of an artisan.
Keating was president of the Royal Hibernian Academy (RHA) from 1949-1962 and was also professor of painting in the National College of Art. On 6 January 1973, 'The Late Late Show' broadcast a special birthday tribute to Keating, the first such 'Late Late' ever broadcast. Keating died on 21 December 1977 at the Adelaide Hospital in Dublin and buried at Cruagh Cemetery in Rockbrook, County Dublin.
This episode of 'One Man's Ireland' was broadcast on 21 October 1973. The reporter is Tom McGurk.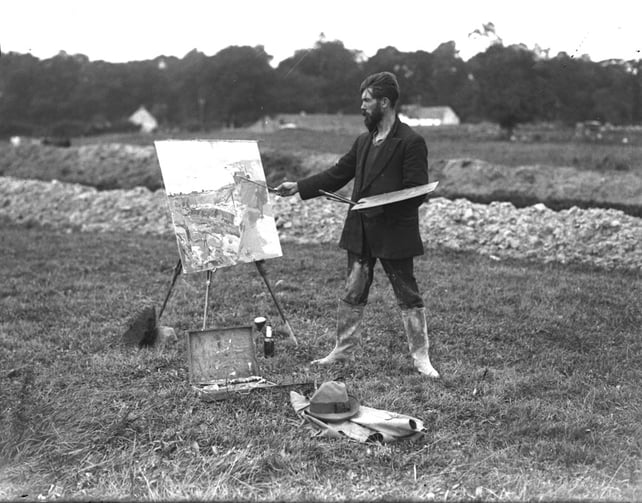 Séan Keating painting the Shannon Scheme excavations at Ardnacrusha in County Clare.