'Man of Aran' had its Irish premiere at the Grafton Picture House in Dublin on 6 May 1934.
The fictional documentary film made by Robert J. Flaherty portrays life on the Aran Islands as a primal struggle for survival, with locals hunting sharks to make oil and gathering seaweed to fertilise the soil. Much of the way of life shown had passed long before the film was made.
Breandán Ó hEithir interviewed the star of the film, Tiger King, Cól Mac an Rí, for 'Pobal' shortly before King's death in 1976. King was the actual man of Aran. A blacksmith and tug-of-war-champion, he was one of the local people chosen to represent the islanders' experience.
King tells Ó hEithir that when the islanders first heard about the film, they thought people were making fun of them. But they weren't. When he actually saw it in the cinema, he thought it was "ceart go leor", better than 'Moana', a similar film Flaherty made about the South Seas. "Bhí a fhios agam go maith gur bullshit a bhí ann," is King's response to questions about the London premiere and all the press attention. After it was all over he emigrated to England, where he worked for the London Metropolitan Waterways for over 30 years.
This extract is from the untransmitted section of an interview broadcast on 'Pobal' on 30 October 1976. Fuair King bás i Londain ar 16 Deireadh Fómhair. Cuireadh é in Inis Mór, an áit inár rugadh é.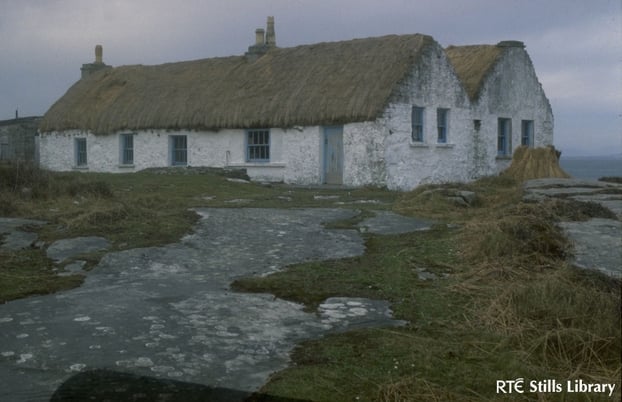 A view of where 'Man of Aran' was filmed on Inis Mor, Aran Islands, taken in 1978.