Recalling the career of the English born actor, director, and theatre producer Hilton Edwards following his death at the age of seventy-nine.
Hilton Edwards (1903-1982) arrived in Ireland from England in the 1920s and formed a life-long relationship with the actor and writer Micheál MacLiammóir (1899-1978). Together, Edwards and MacLiammóir established the Gate Theatre in 1928 making it one of the lasting institutions of the Irish stage.
The death of the lone survivor of Ireland's greatest theatrical partnership of the twentieth century.
Shane Kenny introduces an interview he did with Hilton Edwards on the death of MacLiammóir four years earlier about the pairs enduring relationship having lived together for 51 years. He asks if an Irish man and English man can live together in amity for so long, why can't it happen for ten million people.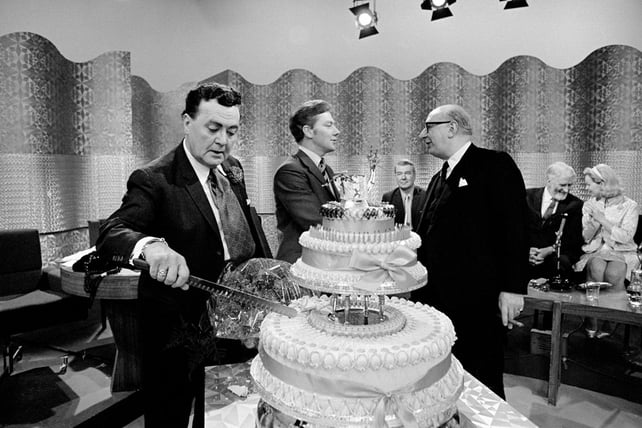 Micheál MacLiammóir, Gay Byrne, Hilton Edwards on 'Late Late Show' Mac Liammóir birthday special, 1969
In another interview, Edwards comments on his adopted home of Ireland and says he would like to see Ireland moving away from its obsession with all things Irish and to open up to a wider cultural range.
I would like to get away from this great incestuous love affair of the Irish with the Irish.
Sheila Richards who worked with Edwards for years in the Gate Theatre speaks to Phil Crotty about the importance of the relationship between Edwards and MacLiammóir to their lives and to their creativity.
An RTÉ News report broadcast on 18 November 1982. The reporter is Shane Kenny.