Preparations are underway in Dublin for the annual Saint Patrick's Day celebrations.
Final touches are being made to the Lord Mayor of Dublin's coach that will lead the Saint Patrick's Day Dublin Parade and bring the Lord Mayor Alexis FitzGerald junior to the reviewing stand in O'Connell Street. The coach made its first public appearance in 1791 and following numerous years in storage it was fully restored in 1975.
Sales of flags and shamrock on Moore Street market are brisk and in the Cat and Cage pub in Drumcondra customers are queuing up to experience the latest Saint Patrick's Day novelty all the way from America - green beer.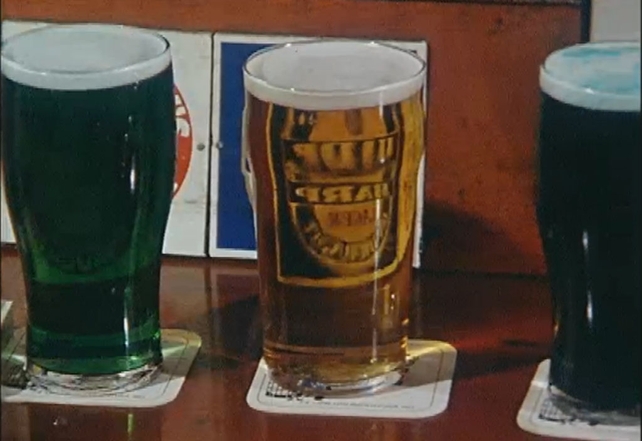 A large number of Americans with Irish ancestry choose to come to Ireland for Saint Patrick's Day. One American visitor explains why he is in Ireland.
There's only one place to be on Saint Patrick's Day, and that there is in Ireland, to be with the people on their big day.
Another American woman has her day planned out.
We're going to the parade to begin with and I'd like to down some green afterwards.
An RTÉ News report broadcast on 16 March 1982. The reporter is Conall Ó Moráin.