Paula Yates talks about her work, men, underpants and being a dutiful girlfriend on 'The Late Late Show'.
Despite leaving school when she was 15 years old, Paula now writes about music for 11 magazines and newspapers. She also contributes a column for women's magazine 'Cosmopolitan' where she wrote about what makes men sexy.
The other day she had lunch with broadcaster Terry Wogan who she finds sexy because
He has all the attributes that most girls with any sense look for. He's over six foot, for a starter...and he's a Paddy, and that's a great help I think.
Paula is very taken by Irish men as they have a
Good line in chat so even if they've got a face like a turnip you can shut your eyes and you can listen to all this guff that they talk, and it sounds like they're telling the truth.
A couple of years ago Paula published a successful book of photos 'Rock Stars in Their Underpants' featuring famous people in their underwear. She was not short of participants willing to feature in the book. However, Roxy Music singer Bryan Ferry and Queen front man Freddie Mercury both refused.
Paula does not intend to settle down to be a dutiful wife and mother as she already considers herself to be a dutiful girlfriend. As for motherhood,
I'd be a very good mother as long as I only have boys...I'm going to have all boys.
This edition of 'The Late Late Show' was broadcast from Goff's in County Kildare as the RTÉ studio in Donnybrook was being used for that year's National Song Contest. Paula's partner Bob Geldof also appeared on the programme with his band The Boomtown Rats. The couple married in 1986 and had three daughters; Fifi Trixibelle, Peaches and Pixie.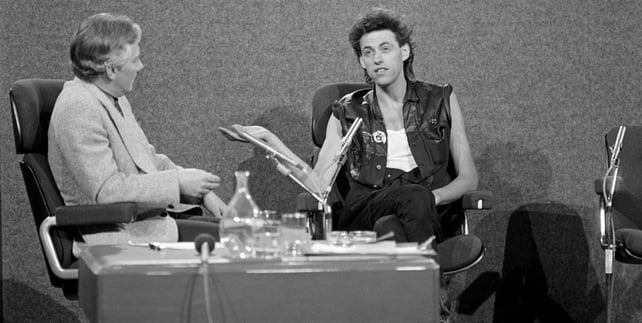 This episode of 'The Late Late Show' was broadcast on 13 March 1982. The presenter is Gay Byrne.