Bing Crosby arrives to play some golf and perform a series of charity concerts at the Gaiety Theatre, Dublin.
Bing Crosby is met at Dublin Airport by the American Ambassador to Ireland Walter J Curley and Aer Lingus officials. The Artane Boys Band serenade him with a rendition of 'In the Blue of the Night' while hoards of fans watch the proceedings from the terminal building. Crosby's son Harry observes the runway greeting in a bemused fashion.
Speaking to the press Bing Crosby says he has no plans to retire anytime soon.
I've taken life easy all my life, I've never had any problem, it's never been any work for me, it's always been a pleasure, always worked with nice people, enjoyed what I was doing, why should I give up?
Bing Crosby joined his friend Christy O'Connor Senior to play a charity golf match in the Christy O'Connor Musgrave Pro-Am competition at the Hermitage in Lucan, County Dublin. He was partnered in his round by Christy O'Connor Senior and the Waterford-born singer Val Doonican.
An RTÉ News report broadcast on 11 July 1976. The footage at the Hermitage in Lucan is mute.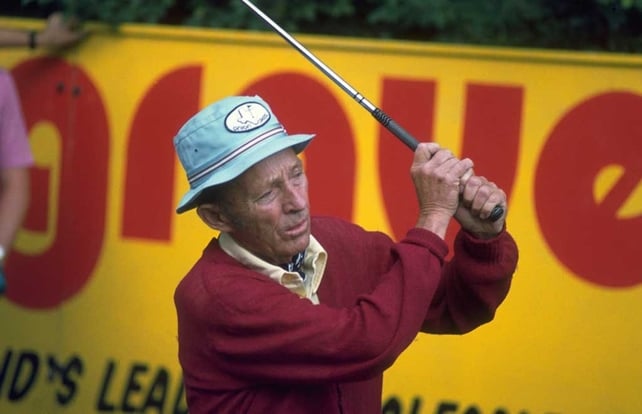 Bing Crosby playing golf at the Hermitage in Lucan, County Dublin.