A visit to the Irish Museum of Modern Art in the week of its official opening.
One of the oldest buildings in Ireland has become the home of our newest museum.
Declan McGonagle, Director at IMMA, talks to Mary O'Sullivan about art in the modern world and the role that IMMA will play. McGonagle has already forged links with locals in Kilmainham through a community based mural project. This is similar to the approach he used to get local people involved in art while he was Director at the Orchard Gallery in Derry.
Prior to opening young artists like Ken Hardy were invited to take up residence at the museum for four weeks. Ken Hardy has used the walls of his room to recreate elements of our social history, an example of which is an eviction scene. He describes the context for his work at the Royal Hospital as part of our post-colonial inheritance. The work he has illustrated directly on the wall is ephemeral and will be simply painted over after it has been exhibited.
Another artist in resident Marie Foley works on a smaller but more permanent scale creating tiny sculptures from porcelain, wood and slate. Marie describes how having artists in residence allows visitors to see how they work in a studio environment.
Tyrone artist Finbar Kelly found his use of colour was heavily influenced by his residency at Kilmainham.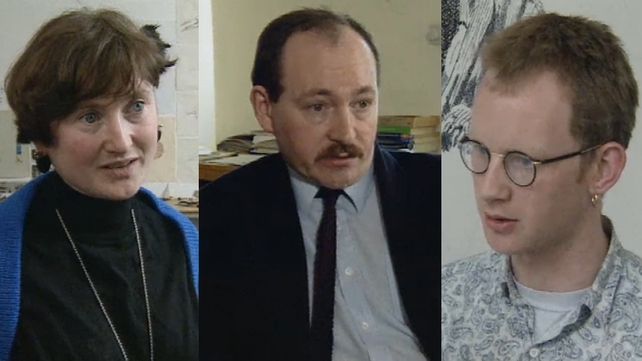 Marie Foley, Declan McGonagle and Ken Hardy (1991)
The works of these artists in residence will be on display to the public along with other more permanent collections and temporary exhibitions. According to McGonagle the opening exhibition emphasises diversity with loans from two European museums along with donations providing visitors with a full experience of a series of moments in art in the twentieth century.
McGonagle describes the task of IMMA.
We have an enormous public responsibility to speak to as broad a spectrum of the public as possible... to present the highest standard of art to the broadest range of people possible.
This episode of 'Summer Express' was broadcast on 28 May 1991. The reporter is Mary O'Sullivan.
The Irish Museum of Modern Art (IMMA) was established in 1990 and was officially opened on 25 May 1991 by the then Taoiseach Charles Haughey.