Derek Cunningham reports for 'Morning Ireland' about how dealing with canine aggression is a daily occurrence for postal workers.
Blackrock Postman Paul O'Loughlin talks about the growing threat of being attacked by dogs in the course of completing his rounds.
Fingers bitten through a letter box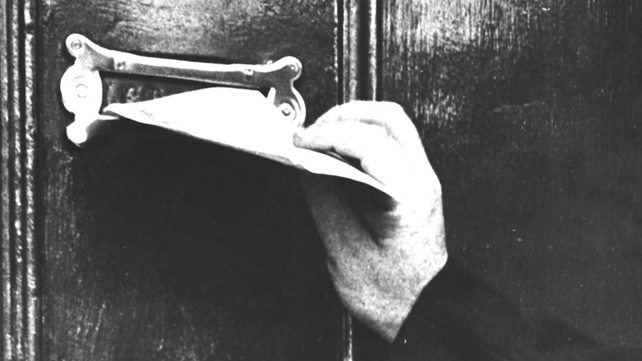 Weeks previously Paul O'Loughlin was chased by an Alsatian dog from its garden into the next garden and then bitten. When the owner was challenged, the man said that the dog was under effective control because 'it was in his garden and he came when he called him'.
One man's idea of effective control is completely different from another man's...
Chris Hudson of the Communications Workers Union is very concerned about dog attacks on its members. Ireland's 5,000 postmen and women are very vulnerable. An Post does not take compensation claims on behalf of postal workers when they are bitten or injured. It is left to individual workers to take a private claim if they want ample compensation for their injuries.
Paul OLoughlin recalls his instinctive response once he hears a dog growling,
Once you hear the sound, it's like putting your hand on hot coals. You jump immediately.
Pádraig Flynn, Minister for the Environment has published regulations on the restriction of certain dogs under The Control of Dogs Act (1986) which will come into effect on 1 June 1991. The new Regulations list the types of dogs to which regulations apply, along with details of how to control, muzzle and identify dogs.
A 'Morning Ireland' radio report by Derek Cunningham broadcast on 24 May 1991.