How the Dublin football team went from losers playing in front of small crowds to champions with huge support.
This group of footballers were brought together by manager Kevin Heffernan, who is credited with reversing the Dublin team's gloomy fortunes in the 1970s.
Jimmy Gray, who was Chairman of the Dublin County Board was key to the appointment of Kevin Heffernan as the trainer, selector and manager of the Dublin Senior Football team.
When Kevin Heffernan took on the Dublin team they were pretty hopeless and morale was low.
They were the grottiest lot anybody could inherit.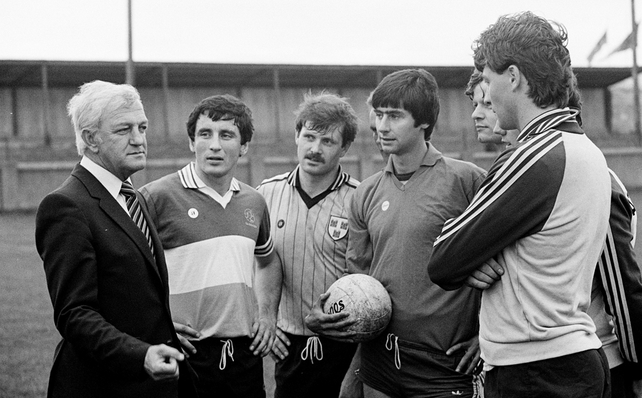 Gaelic football manager Kevin Heffernan talks to Dublin team (1983)
He recalls it being a period when you did not tell people you played for Dublin, but with the assistance of of selectors Donal Colfer and Lorcan Redmond, the Dublin team went from strength to strength.
Jimmy Gray believes the success of the team brought about a cultural change in Dublin, which at the time was in a depressed state. Dubliners enjoyed having a focal point of interest and this was seen in the display of flags on the Hill 16 terrace of Croke Park.
This episode of 'Bibi' was broadcast on 30 January 1991. The presenter in is Bibi Baskin.