Did Dublin's dirty dozen or twelve apostles win the Sam Maguire?
Dublin beat Galway in the 1983 All Ireland Football Final. The match was memorable for a number of reasons although the standards of football and sportsmanship were not those desired for one of the GAA's showcase days. Four players were sent off three from the Dublin team and one from Galway. The game was played in a gale with showers of driving rain. Although the official attendance was 71,988 - this was before All Ireland Finals became all ticket occasions - there was overcrowding on both terraces with many supporters failing to get into the ground.
Dublin played much of the second half into the gale-force wind with 12 men against Galway's 14 and held on to win the game 1-10 to 1-8. Barney Rock was Dublin's top scorer with 1-6. Dublin became the first team to win an All Ireland Final with 12 men.
The 1983 final is often referred to as 'the game of shame' but for Dublin supporters it was won by 'the 12 apostles'.
Here is the end of the game and the presentation of the Sam Maguire taken from RTÉ coverage broadcast 18 September 1983. The commentator is Michael O'Hehir.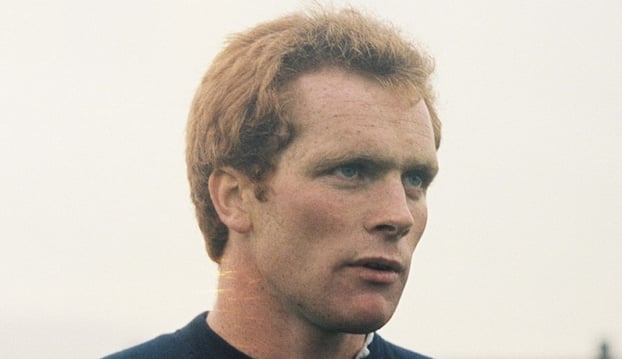 Dublin player Barney Rock in Dublin's Parnell Park in September 1983.