With 'Who Wants to be a Millionaire?' coming to Ireland a look back at some more modest television quiz shows.
The international hit 'Who Wants to be a Millionaire?' was first broadcast on ITV in September 1998. Two years later, it was on air in 31 countries and about to make its début on RTÉ with Gay Byrne as host.
Irish television game shows were not always as slick and certainly did not offer prizes like 'Who Wants to be a Millionaire?'
Anthony Murnane takes a look back at some previous RTÉ quiz programmes. There was 'Quicksilver', which asked prize questions for 10p well into the 1980s. Later came the high tech era of 'Murphy's Micro Quiz-M', where the grand prize was a car, and 'Where in the World?' with Theresa Lowe, offering winners a holiday abroad. 'Irish Independent' television critic John Boland says they reflect a more innocent time.
An RTÉ News report from 16 October 2000. The reporter is Anthony Murnane.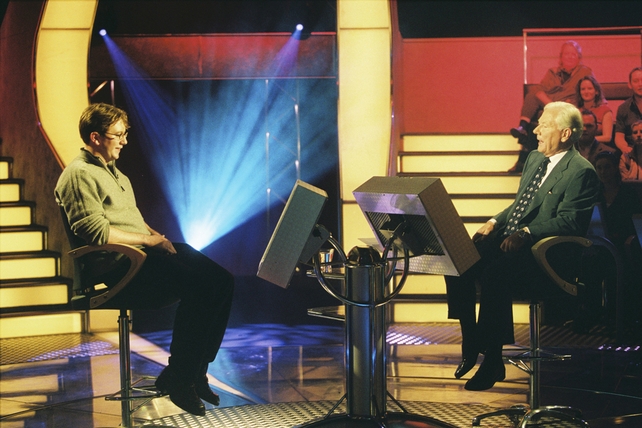 Contestant and Presenter Gay Byrne on set of Who Wants To Be A Millionaire?