Ireland's first summer TV game show gives players the chance to win a million pounds.
'Millionaire' was launched by RTÉ and the National Lottery as a special summer show for 1995. One lucky person would get to become a millionaire live on Irish television. To play the game, members of the public had to buy a special 'Millionaire' scratch card. If they got three stars, they could then enter a draw to appear on the show. Four players would be drawn for each of 15 programmes. A grand final would then decide which of the 15 finalists got to be the millionaire.
In this extract, John Joe Walsh of Moyvane, Co. Kerry has just become the 14th player on the Millionaire Board. Host Marty Whelan tells him this means that he gets to come back in September for the final, when he will also receive £10,000. Right now, he is given £5,000 to play the last game of the night, '4 in a Row'. Are the cards odd or even? If his four guesses are correct, he gets to take away £100,000.
This edition of 'Millionaire' was broadcast on 18 August 1995.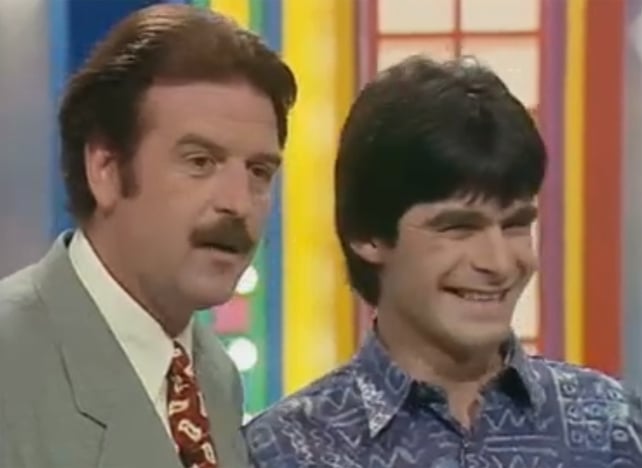 Marty Whelan with contestant John Joe Walsh (1995)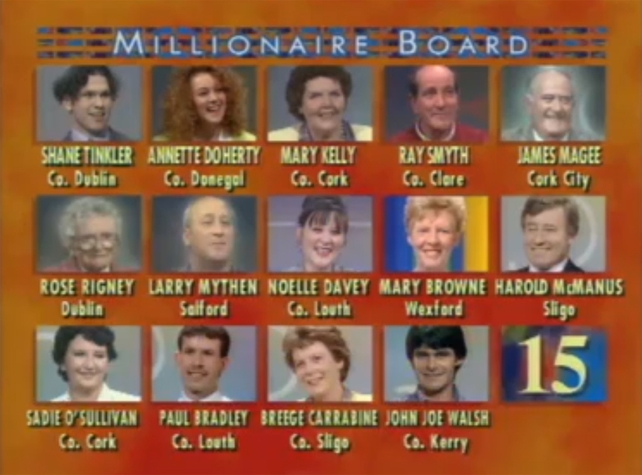 Millionaire Board (1995)