For the first time a collaborative project between the North and South of Ireland has produced a comprehensive 32 county road atlas for motorists and tourists.
A new road atlas of Ireland was launched on 22 April 1985. This was the first comprehensive road atlas to be produced, printed and published in the country.
Ordnance Survey Ireland and the Northern Ireland Ordnance Survey Office worked together to produce a book which covers the entire 32 counties using the most up to date cartographic data. This is an 80 page atlas published by Gill & MacMillan.
Charlie Bird reports from the official launch of the atlas where the Minister for Finance, Alan Dukes, was presented with a copy of the new atlas by publisher Michael Gill of Gill & MacMillan. The launch was also attended by senior civil servants from the Northern Ireland Ordnance Survey Office along with their counterparts from the Ordnance Survey Office in the Phoenix Park, Dublin.
The atlas costs £9 and contains over 40 pages of detailed road maps of the 32 counties of Ireland, as well as tourism and motoring information. Much of the information for the book was derived from a map of Ireland drawn at the turn of the century. However, future updates to the maps will be done through a new computer system.
Maurice Walsh, Assistant Director, Ordnance Survey Ireland, and Michael Brand, Ordnance Survey Northern Ireland stress the importance of the co-operation between the two ordnance survey organisations, north and south of the border. The collaborative project produced a quality atlas and a commercially viable product.
This is the first that we have brought together so much information for the motorist and for the tourists
An RTÉ News report broadcast on 22 April 1985. The reporter is Charlie Bird.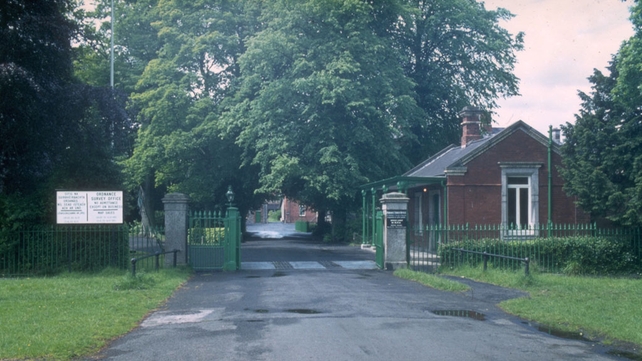 Ordnance Survey Office, Phoenix Park