Magnus Magnusson tests two Late Late Show audience members the Mastermind way.
Magnus Magnusson best known as the presenter of 'Mastermind' talks Gay Byrne about the famous quiz programme and his Icelandic background.
Two Late Late Show audience members Nora from Ballsbridge and Willie from Galway take part in a more relaxed than usual version of 'Mastermind'.
During the interview Magnus Magnusson talks about his work.
The BBC pays me to do things that I absolutely love doing, which is exploring the past, meeting great scholars who can explain the past to me, and then trying to be a communicator of that.
Magnus Magnusson recalls a recent visit to the Wood Quay site and the role the Vikings played in Ireland and across the world.
This episode of The Late Late Show was broadcast on 13 October 1979. The presenter is Gay Byrne.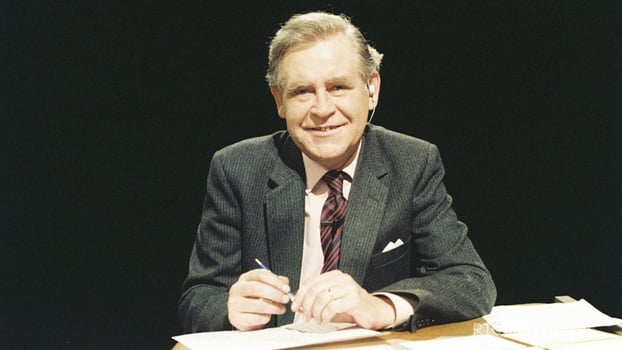 Magnus Magnusson presents 'Mastermind' (1983)