Republic of Ireland soccer manager Jack Charlton found himself banned from the sidelines by FIFA at the 1994 World Cup.
The ban came after Ireland had played two matches, the first against Italy, which they won 1 - 0, and the second against Mexico, which they lost 2 - 1.
During the Mexico match, Charlton and player John Aldridge had been in a dispute with a FIFA official, who caused a delay when Charlton was trying to send Aldridge onto the pitch as a substitute for Tommy Coyne. The ban meant that the Irish team would not have their manager at the sidelines during their crucial match against Norway, which would determine whether or not they would proceed to the next round of the competition.
Jack Charlton spoke to RTÉ News shortly after learning of the ban. In this interview recorded in an Orlando hotel lobby, he says he has been banned for shouting at referees and linesmen, which surprised him because all he shouted was could he give the players a drink of water.
An RTÉ News broadcast on 25 June 1994.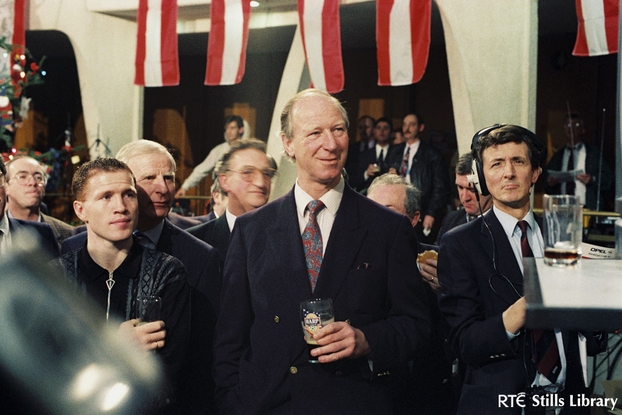 Jack Charlton (with a pint) at the World Cup draw in 1993.