Relief and delight for Republic of Ireland supporters getting tickets for the World Cup quarter final clash with Italy.
Irish soccer supporters queue at the Italia '90 press centre in Rome for tickets for the World Cup quarter final against Italy.
Tickets are being allocated on a first come first served basis. Republic of Ireland supporter and organiser Shane Mallon describes the efforts to help Irish supporters as they try to get their hands on a ticket.
At a press conference, Ireland's Minister for Sports Frank Fahey and FAI officials announced that Irish supporters would be guaranteed at least 8,500 tickets on the night. Frank Fahey is critical of FIFA's handling of the ticket allocation and warns against buying black market tickets.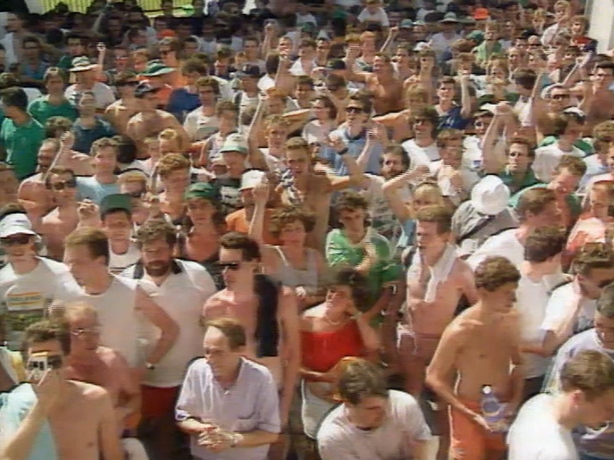 Republic of Ireland Fans at Italia '90
Outside the Olympic stadium in Rome Republic of Ireland supporters were in full voice. Despite running low on funds, most fans are in high spirits with chants of,
You'll never beat the Irish.
Those with tickets are keeping them safe.
An RTÉ News report broadcast on 28 June 1990. The reporters are Colm Murray and Tommie Gorman.