'Youngline' visits the Hot Press offices and meets editor Niall Stokes who talks about his role at the magazine.
Editor Niall Stokes has the final say on content and what goes to print. According to reporter Peter Mulryan
The magazine takes a definite anti-establishment, left of centre point of view.
Located overlooking Wicklow Street, Dublin this feature on Hot Press features music critic Bill Graham, and assistant editor Liam Mackey. While music is the most important subject in the magazine, it also covers current affairs, sport, social and political issues.
When Hot Press was started by Niall Stokes in 1977, it was an underground magazine aimed at urban, young people with an interest in rock. However, there is more than music in Hot Press magazine today.
This report for 'Youngline' was broadcast on 14 May 1984. The report features music from REM and footage of a performance by Dublin punk band 'Revolver'.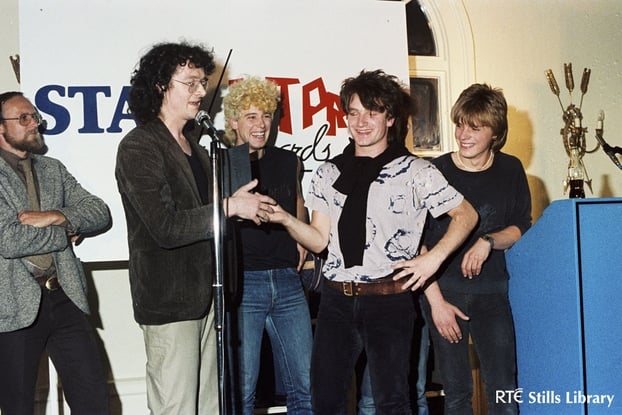 U2 receive a Stag/Hot Press music award from Niall Stokes, the editor of 'Hot Press', in 1982.
'Youngline' was a once weekly, half-hour magazine show for younger viewers. The first programme was broadcast on Tuesday, 23 November 1976. The programme continued until May 1984.