The first episode of ground-breaking urban drama 'Family' was broadcast on RTÉ on 3 May 1994. An RTÉ/BBC co-production, it was written Roddy Doyle and directed by Michael Winterbottom. Each of the four parts focused on a different member of the Spencer family. The first one was about husband and father Charlo, an unemployed criminal who is abusive and violent towards his wife Paula.
This 'Late Late Show' debate on the issues raised shows the effect the drama had on the Irish public. It was broadcast live on 6 May 1994, three days after the Charlo episode. Members of the audience give their reaction to host Gay Byrne, discussing the portrayal of domestic violence and how true to life it is.
Writer Roddy Doyle responds to criticisms of the drama's use of Ballymun as a location, saying he never set out to hurt the people of Ballymun. It was chosen because as an urban setting it works as an international landscape.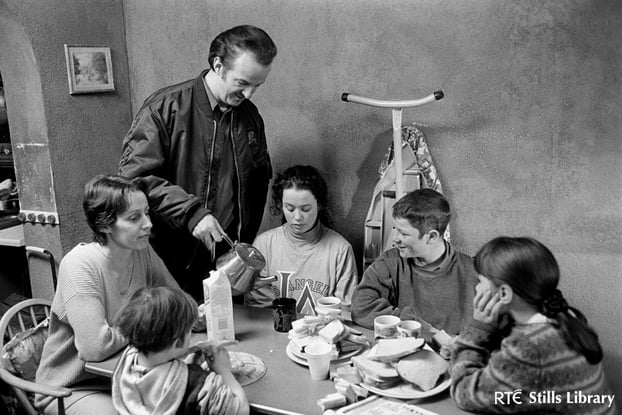 Cast of 'Family' during filming in 1993. Clockwise from left to right: Ger Ryan as Paula, Seán McGinley as Charlo, Neilí Conroy as Nicola, Barry Ward as John, Gemma Butterly as Leanne and Jake Williams as Jack. The photographer was Tom Holton. © RTÉ Archives 2277/074