At a time when it was still illegal to sell contraceptives in Ireland, a shop doing just that has opened in Dublin.
Dublin's first contraceptive shop 'Contraceptives Unlimited' is run by the Contraception Action Programme (CAP).
CAP was set up by a number of organisations including the Women's Advisory Committee of the Irish Congress of Trade Unions (ICTU), family planning companies and a number of women's groups who came together on the family planning issue.
Will customers be asked about their marital status or age when they go into the shop?
Reporter George Devlin talks to Anne Speed, who works at the shop about contraceptives and their availability. Speed says that the availability of contraception will not be restricted by marital status. Speed states that
People have the right to engage in sexual activity irrespective of their age or their marital status.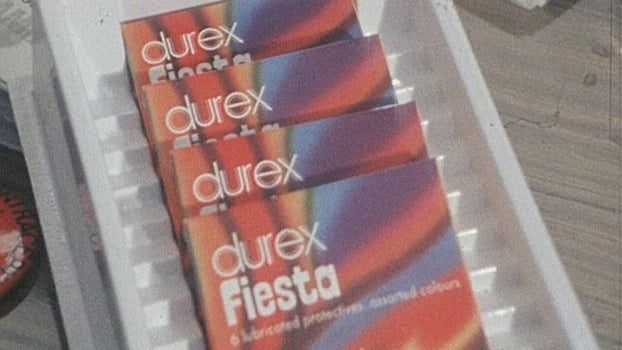 Condoms on sale at 'Contraceptives Unlimited', Harcourt Road, Dublin in 1978.
Contraceptives have been available in Ireland since 1969 from clinics that provide family planning advice. While clinics do not sell contraceptives, customers are expected to give a donation. The CAP shop sells contraceptives, apart from prescription contraceptives. In openly breaking the law CAP hope to expose the hypocrisy of the law, which states that it is legal to buy contraceptives but illegal to sell them. Profits from the shop are being used to fund the legal costs to establish the constitutional right of clinics to sell contraceptives.
An RTÉ News report broadcast on 28 November 1978. The reporter is George Devlin.