Ireland takes second place behind the United Kingdom at the 1967 Eurovision Song Contest in Austria.
Sean Dunphy (1937 – 2011) represented Ireland at the 1967 Eurovision Song Contest, finishing second with the song 'If I Could Choose'. Despite not winning the contest, Dunphy returned to Ireland to a hero's welcome at Dublin airport where he was greeted by his family, friends and hundreds of fans. Charles Haughey, then Minister for Finance, and the Lord Mayor of Dublin Eugene Timmons, were also there to offer their congratulations. Also in attendance were Dunphy's manager Oliver Barry and singer Dickie Rock.
Reporter Mícheál Ó Briain endeavours to interview Dunphy as he gets off the plane at Dublin airport and again later in the terminal building.
When asked how he felt, Sean Dunphy responded
Wonderful. I'm chuffed. I can't even talk properly... It's the most wonderful moment of my life.
He chats about his experience at Eurovision and plans for the future.
Sean Dunphy was selected to represent Ireland at Eurovision following the Irish National Final which was held on 12 February 1967. The winner was chosen by a postcard vote.
The 12th Eurovision Song Contest took place in Vienna, Austria on 8 April 1967. Sandie Shaw won the competition with the song 'Puppet on a String', written by Phil Coulter and Bill Martin.
An RTÉ News report broadcast on 10 April 1967.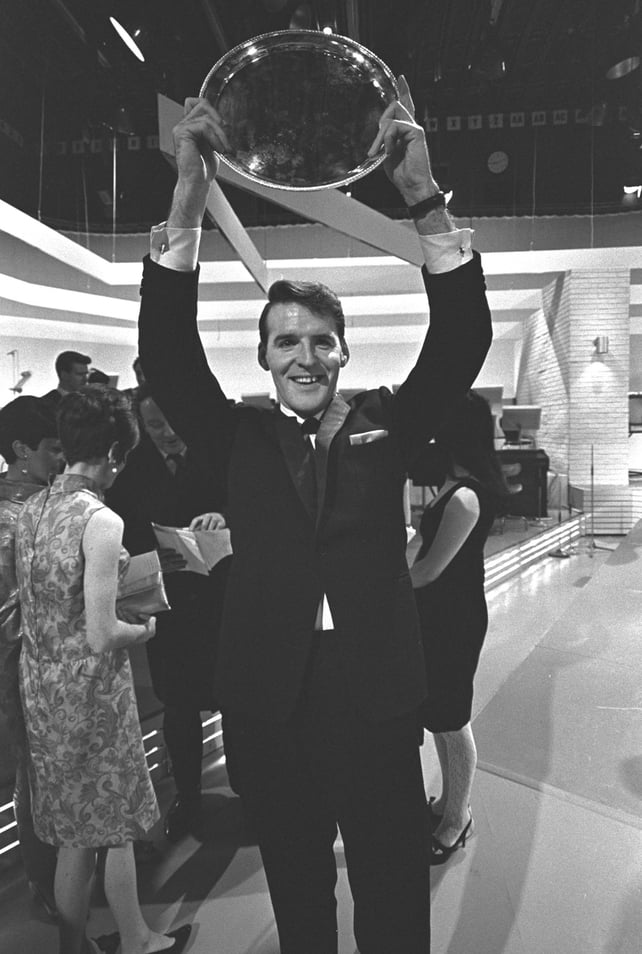 Sean Dunphy Wins National Song Contest (1967)
| | |
| --- | --- |
| Title: | 2nd Place for Sean Dunphy |
| Clip Duration: | 00:04:52 |
| Material Type: | Video |
| Clip Title: | It's the most wonderful moment of my life |
| Series Title: | RTÉ News |
| Information: | An RTÉ News report broadcast on 10 April 1967. |
| Local Keywords: | eurovision song contest, 1967, sean dunphy, micheál o'briain, |
| Coverage: | Ireland, Dublin |
| Topic: | Arts and Culture |
| Contributor(s): | Micheál O Briain (Reporter) |
| Publisher: | RTÉ |
| First Broadcast Channel: | Telefís Éireann |
| Broadcast Date: | 10/04/1967 |
| Production Year: | 1967 |
| Country of Production: | Ireland |
| Original Identifier: | BA604 |
| IPR Restrictions: | Rights Reserved - Free Access |
| Rights, Terms and Conditions: | Copyright RTÉ. This material may not be replicated in any form or manner without the prior express permission of RTÉ. Any form of reproduction in print, television, video, multimedia, web site or other electronic media or any form of dissemination for commercial or non-commercial use must be licensed by the RTÉ Archives. If you wish to licence video or audio clips, still images or text, or would like further guidance please contact us. RTÉ Archives are committed to respecting the copyright of others and have attempted to source and credit the copyright owners of all material used here. RTÉ would like to hear from any copyright owners who are not properly identified here so that the necessary corrections can be made. If you feel your copyright has not been respected please contact us. |
| Item Type: | part/extract |
| Colour: | Black and White |
| Sound: | Mono |
| Aspect Ratio: | 4:3 |
| Language: | English (eng) |
| Original Language: | English (eng) |