Jason Byrne plays a prank on writer, actor and comedian Bill Murray.
Up and coming comedian Jason Byrne, as a member of the audience on the Late Late Show, takes the opportunity to ask actor, writer and comedian Bill Murray if he has ever seen a ghost.
Prankster Jason Byrne acquired a ticket for The Late Late Show, borrowed his father's tie, got into character and waited for his moment in the spotlight.
The question is, Bill, have you ever seen a ghost and if so, were you ever frightened?
Bill responds by saying he had seen a ghost earlier that evening at Roly's Bistro in Ballsbridge when his waiter disappeared and reappeared sometime later as a woman.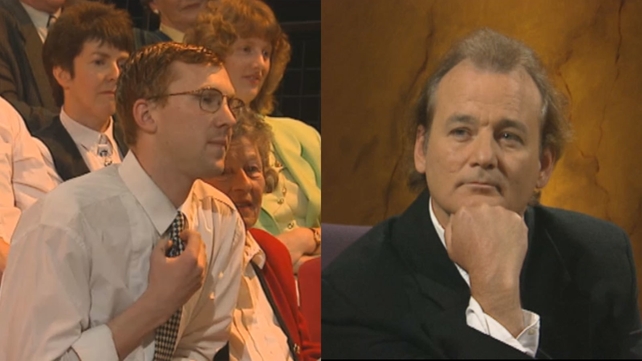 Jason Byrne and Bill Murray
Byrne also tells Bill Murray, that the film Ghostbusters' had inspired him and a group of friends to set up an Irish Ghostbusters who work mainly on possessed farm animals.
Bill Murray was in Ireland to promote the Murphy's Cat Laughs Comedy Festival in Kilkenny.
Dubliner Jason Byrne went on to become a stand-up comedian and was twice nominated for a Perrier Award at the Edinburgh Comedy Festival. He has also appeared on many TV and radio shows and is currently a judge on Ireland's Got Talent.
This episode of 'The Late Late Show' was broadcast on 24 May 1996. The presenter is Gay Byrne.
| | |
| --- | --- |
| Title: | Comedian Jason Byrne |
| Clip Duration: | 00:01:47 |
| Material Type: | Video |
| Clip Title: | Jason Byrne Pranks Bill Murray |
| Series Title: | Late Late Show |
| Information: | This episode of 'The Late Late Show' was broadcast on 24 May 1996. The presenter is Gay Byrne. |
| Local Keywords: | Comedy, Late Late Show, Gay Byrne, Jason Byrne, Bill Murray |
| Coverage: | Ireland |
| Topic: | The Media |
| Contributor(s): | Gay Byrne (Presenter) |
| Publisher: | RTÉ |
| First Broadcast Channel: | RTÉ One |
| Broadcast Date: | 24/05/1996 |
| Production Year: | 1996 |
| Country of Production: | Ireland |
| Original Identifier: | ARP00008123 |
| IPR Restrictions: | Rights Reserved - Free Access |
| Item Type: | part/extract |
| Colour: | Colour |
| Sound: | Mono |
| Aspect Ratio: | 4:3 |
| Language: | English (eng) |
| Original Language: | English (eng) |