A House play a free lunchtime gig at the Virgin Megastore in Dublin.
During a free lunchtime gig at the Virgin Megastore on Dublin's Aston Quay, A House perform their third single 'Heart Happy'.
The Dublin band are vocalist and guitarist Dave Couse, guitarist Fergal Bunbury, drummer Dermot Wylie and bassist Martin Healy. The Virgin Megastore is packed with committed A House fans,
We've been to all their gigs and they're really good.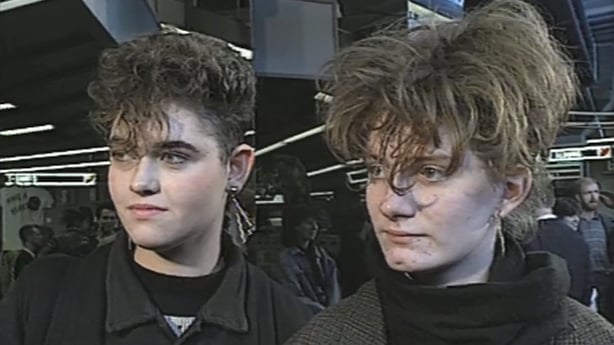 After the show, Borderline presenter Ronan Johnston asks some of the audience members what they think of lunchtime gigs. The response is overwhelmingly positive.
I think they should have more of these kind of things, like lunchtime, they're very good.
One young man is enthusiastic about lunchtime gigs but suggests they are held on a Saturday to give school goers a chance to see live bands. Another man thinks the lunchtime gig gives bands an opportunity to show what they can do in front of an audience. Tony Brereton the drummer with Dublin band Lord John White agrees,
It's great for a young band starting off as well and it's a good way to promote new singles.
Borderline was an RTÉ Saturday morning show for young people featuring music, fashion, film and entertainment. The presenters were Aonghus McAnally, Ronan Johnston and Majella Nolan.
The first episode of 'Borderline' was broadcast on 11 October 1986 and it ran until 1988.
This episode of 'Borderline' was broadcast on 1 December 1987. The presenter is Ronan Johnston.