A syndicate of Dunnes Stores employees from Athlone win the lottery jackpot.
A syndicate of 24 Dunnes Stores supermarket employees in Athlone were celebrating today as they scooped the top prize of over €1.6 million in the Irish Lotto. The all women syndicate work at the Montree branch of Dunnes Stores.
It's been a day of very little work and lots of celebrations at the Montree Dunnes Stores Centre, Athlone.
The syndicate have been playing the game using quick picks for over a year and this week walked away with the Lotto jackpot of over €1.6 million. When asked what she is going to the do with her winnings, one syndicate member Deirdre Joyce replies, "spend it".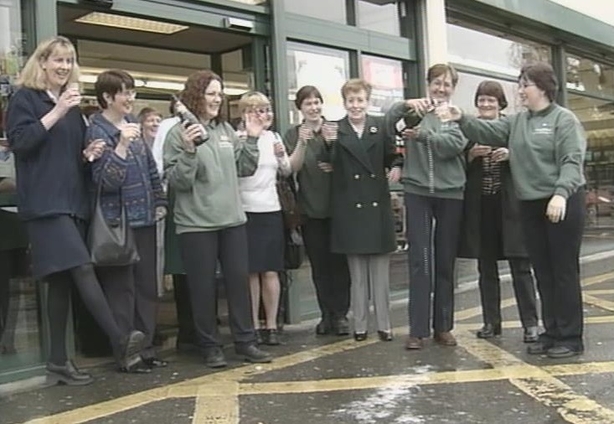 While the 24 women have a new found wealth and will collect the cheque on Thursday, none of them plan to leave their jobs.
Drapery Manager John Egan congratulates the women on their win but says the store can not afford to lose any of its brilliant workers.
An RTÉ News report broadcast on 19 March 2002. The reporter is Ciaran Mullooly.