Celebrating a 100 years of racing at Kilbeggan Racecourse in County Westmeath.
There has been horse racing in the Kilbeggan area for over 160 years. The hugely popular Westmeath track is celebrating the centenary of action at Loughnagore, the location of the present racecourse.
There was no action on the track from 1941 to 1945 due to World War II. Despite facing financial problems over the years, the sport survived and has gone from strength to strength.
Manager at Kilbeggan Paddy Dunican outlines some of the challenges that the racetrack has faced through the years. In 1963 and 1969, the racing board threatened the track with closure. The committee along with local support managed to save the track.
It has gone from strength to strength to now being one of the success stories of Irish racing.
Minister for Public Enterprise Mary O'Rourke is a great supporter of the track and sees the annual event as a chance to catch up with people from the area.
The Elan Midlands National was the centrepiece of last night's seven race card and the race was won by Rockholm Boy owned by Michael Hourigan and ridden by Philip Carberry.
The richest race ever held at Kilbeggan took place last night with prize money of £40,000. The Elan Midlands National was the centrepiece of the seven card race and was won by Michael Hourigan's outsider Rock Hall Boy.
Some of those in attendance embraced the centenary celebrations and dressing in the clothing of the last century.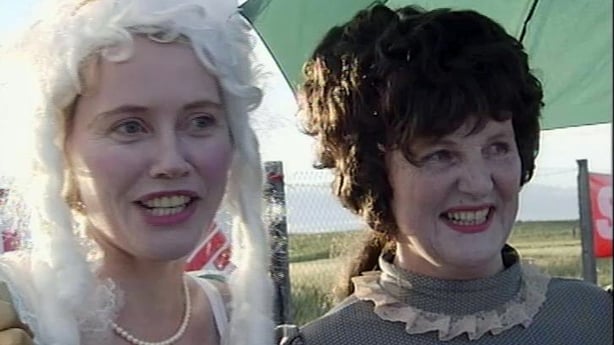 Celebrating the Kilbeggan Centenary (2001)
An RTÉ News report broadcast on 21 July 2001. The reporter is Colm Murray.