Due to a significant fall off in trade the cattle market operated by Dublin Corporation is to close.
The Dublin cattle market, located on the North Circular Road near Stoneybatter lies on a 10 acre site bounded by Prussia Street, Aughrim Street and St. Joseph's Road. The market opened on 21 November 1863, but due to a significant decline in trade, it is due for closure on the 21 October 1971.
In its heyday in the 1940s and 1950s, the Dublin cattle market was central to the nation's livestock trade. Large numbers of cattle were moved through the local streets to be shipped to England.
The arrival of the marts changed all that.
Marts at Maynooth, Ashbourne, Drogheda and Ashford took the business away, as did the arrival of the wholesale meat supplier. The Dublin butcher who used to by his meat on the hoof, now buys from the wholesaler, who in turn buys at the marts throughout the country.
Cattle sales at the Dublin Cattle Market have dropped from 4,000 a week in 1960 to less than 500 a week. Sheep and pig numbers have also dropped significantly. Dublin rate payers will be happy to see the demise of the Dublin cattle market as it is expected to lose £40,000 in 1971.
The Dublin Cattle Market was set up by an Act of Parliament compelling it to open every Wednesday regardless of stock. It will take an Act of the Oireachtas to free Dublin Corporation from this obligation but this is just a formality.
The last cattle were traded at the Dublin cattle market on the 9 May 1973.
An RTÉ News report broadcast on 27 July 1971. The reporter is Barry Linnane.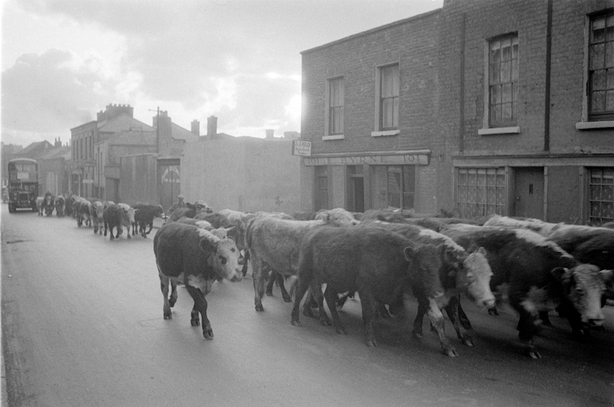 Cattle on North King Street, Dublin city in 1952/1953.