Bobby Sands and Harry West contest a by-election in Fermanagh and South Tyrone for a seat at Westminster.
Hunger striker Bobby Sands stood as a Anti H-Block Armagh Political Prisoner and Harry West was the candidate for the Ulster Unionist Party. They were the only candidates for the seat in the Fermanagh and South Tyrone by-election. The election came about following the death of Irish republican MP Frank Maguire.
Bernadette Devlin McAliskey, Neil Blaney, Owen Carron and others attend a news conference for the Bobby Sands campaign.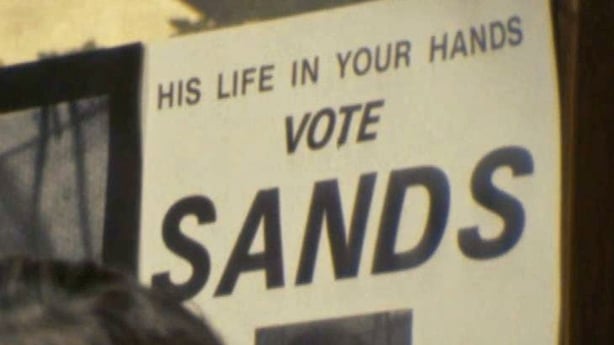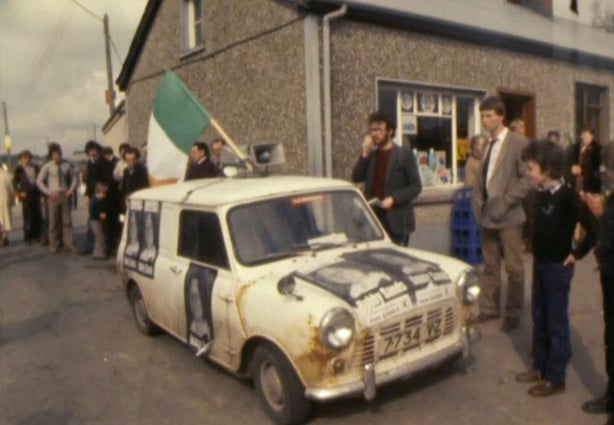 Bobby Sands By-Election Campaign (1981)
Speaking in Irish at the news conference Bernadette Devlin McAliskey says that people are satisfied to come out and support Bobby Sands and other prisoners. The question is not the arms struggle but rather not to let him die.
In the event of the death of Bobby Sands a by-election will be called, and another candidate from a nationalist background will in a position to campaign on issues such as unemployment in South Tyrone, says Bernadette Devlin McAliskey. If Bobby Sands is not elected, Harry West will remain as the local MP for the foreseeable future,
Beidh Harry West againne go dtí b'fhéidir go bhfaighinn Harry West bás.
Ulster Unionist Party candidate Harry West expects to gain the support of all unionist voters in the election and to forget about all the rivalry that has gone before.
The election took place on 9 April and saw Bobby Sands elected. Bobby Sands died 26 days later.
An RTÉ News report broadcast on 7 April 1981. The reporter is Póilín Ní Chiaráin. This report is in Irish.