Anti H-Block Groups from around the country gather in Dublin to call on government support for the Hunger Strikers.
2,500 demonstrators marched from St Stephen's Green through Dublin's City Centre to the Garden of Remembrance.
The march was led by two men in blankets and anti H-Block demonstrators carried placards. The protest was closely monitored by riot police and was under heavy Garda surveillance throughout. The protesters stopped at Leinster House to hand in a letter to the Taoiseach Mr Charles Haughey. They also attended a rally at the GPO on O'Connell Street. Speakers at the rally included the ex President of New York Gaelic Athletic Association (GAA) Mr John Kerry O'Donnell and they called for a boycott of all British goods.
The final stop was at the Garden of Remembrance in Parnell Square where the Hunger Strike protesters laid wreaths at the memorial.
An RTÉ News report broadcast on 9 May 1981.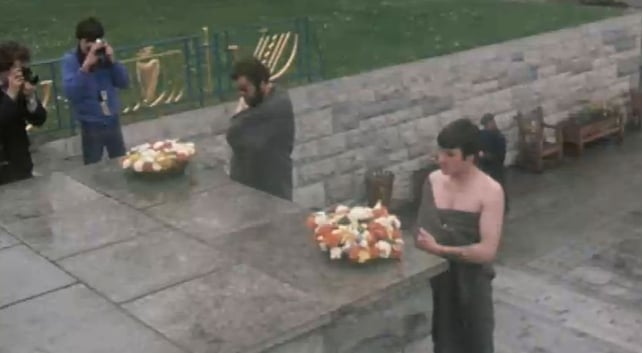 Dublin H-Block Demonstration at the Garden of Remembrance (1981)