Dublin teenagers identifying as punks, skinheads and rude boys describe their tribe.
Punks, skinheads,mackintosh skinheads, ska boys, rude boys, nutty boys, mods, teds, road rockers, Vikings, greasers and gangsters. These are just some of the tribes influencing the young people who congregate around the Dandelion Market on St Stephen's Green Dublin. The disparate youth tribes are frequently at loggerheads,
Everybody's against everybody.
Outside Advance Records on South King Street one teenager refuses to be labelled,
What am I? An individual.
A skinhead explains,
We dress in a way we want to, it's an image, we're just following an image.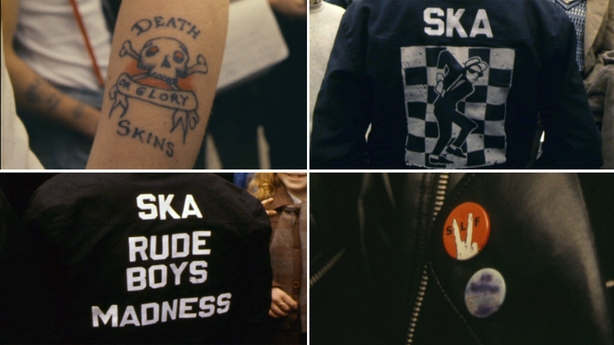 A teenage girl defines herself as a punk,
It just means being different from everybody else.
She may get a hard time from the skinheads and mods about her appearance, but is confident in her choice of tribe,
Punk wants to change society from the way it is, we don't like society the way it is, skinheads just want to kick up a row and kick everybody's heads.
One teenager identifies as a ska boy and a skinhead, stressing there is no difference. He says he listens to skinhead music like Madness.
A skinhead completely disagrees with this opinion. For him there is a clear distinction between rude boys and skinheads. Most obviously with their hairstyles, but also in the music they listen to,
Reggae, total reggae music, none of this ska crack.
Reggae for him is not Bob Marley, but roots reggae artists like The Mighty Diamonds, The Gladiators, I Roy and Prince Far I.
A skinhead girls says although she is one of just two female skinheads,
I'm proud to be a skinhead.
This episode of 'Ireland's Eye' was broadcast on 10 December 1980. The reporter is Mark Cagney.