Stephen Pearce is making a success of his pottery business in the face of a recession.
Despite the financial challenges of the recession, Stephen Pearce is expanding his business and hopes to educate people about the craft of pottery.
He puts this success partly down to a mindset. At the beginning of the recession, like many others Stephen Pearce believed that people would not be interested in buying pottery. However, one day he had a change in attitude.
Let's play the game that the recession is only a thing that exists in our minds, that it's nothing in reality.
Stephen Pearce and his team threw themselves into their work, took on new staff and expanded their market to America. He sees their success as a result of the choices they made rather than luck.
He describes the process of making pottery and how the clay takes over.
I never consciously design anything before I start work on it.
The clay for his pottery is dug from the Blackwater estuary, as it was done by potters and earthenware makers of 250 years ago. Stephen Pearce is a second generation potter and is so busy that he does not have time for any hobbies let alone time to relax.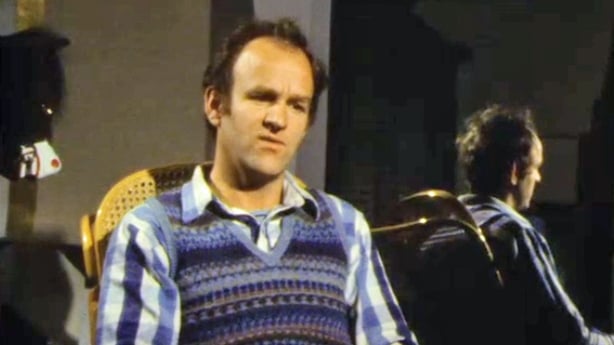 Potter Stephen Pearce (1985)
He has found time from his busy schedule to take part in the Cork 800 celebrations. Every second Sunday, children come to the workshop in Shanagarry to learn about and practice the craft of clay making. This is an opportunity for children to learn about the importance of craft.
Clay is clay. Kids are kids. If you put the two together, they develop a natural feeling.
Success has now culminated in Stephen Pearce opening his first shop in Naas, County Kildare. If the shop is a success, he plans to open more shops in key centres throughout the country. He is confident that there is a demand for good quality Irish craft. The shop will sell more than just pottery and will include handmade glass, cutlery, other tabletop products and gifts. He also has plans for craft demonstrations in the shop.
While Stephen Pearce does not expect to become rich from pottery, he will make a living. He believes that during a recession the best approach for a business is to carry on doing what they do best.
A craft shop doesn't have to be disorganised in order to achieve.
An RTÉ News report broadcast on 4 December 1985. The reporter is Peter McNiff.