Glasnevin Cemetery to extend crematorium chimney after complaints about pollution.
Glasnevin Cemetery has the only crematorium in the country. Demand for cremation is on the increase. In the first year, 200 cremations were carried out and last year this figure had risen to 1200.
Cremation has grown in popularity across all denominations.
A cremation costs £250 which is far cheaper than the price of a grave. There have been complaints about fumes from the oven flowing through the chimney and polluting the local area. The chimney was once an observation tower used to watch out for grave robbers.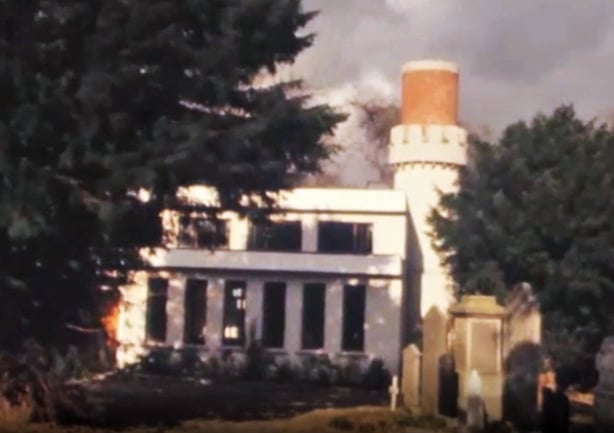 Glasnevin Crematorium and Chimney
Staff at the Botanic Gardens, next to the graveyard, have complained about the smells of the fumes from the chimney. Christy Crosby from the Botanic Gardens says that depending on the wind direction, the fumes blow into the gardens and some of the staff are not happy about it.
After discussing the issue with air control specialists in Dublin Corporation, Glasnevin Cemetery has agreed to extend the chimney by 15 feet. George McCullough of the Glasnevin Cemeteries Group acknowledges that the complaints are justified and says that the extended chimney will allow the smoke to dissipate properly.
Glasnevin Cemetery hopes that the chimney extension will help to meet the European directive on smoke emissions from crematoria.
For those who are passing to a better world, it is perhaps a cleaner, greener way to go.
An RTÉ News report broadcast on 8 August 1995. The reporter is Tony Connolly.